Quick facts:
Mustang Alpha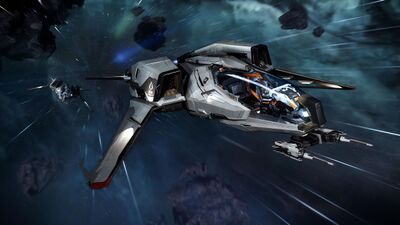 Cargo
4 SCU
400 KµSCU <br />4,000,000 µSCU <br />
Stowage
6,250 KµSCU
6.25 SCU <br />6,250,000 µSCU <br />
Standalone
$ 30.00
€ 30.30 <br />£ 25.50 <br />
Availability
Always available
Persistent Universe data has moved
Length
21.5 m
0.0215 km <br />2,150 cm <br />
Width
18 m
0.018 km <br />1,800 cm <br />
Height
9 m
0.009 km <br />900 cm <br />
Max speed
1,160 m/s
4,176 km/h <br />
The Consolidated Outland Mustang Alpha is a sleek, stylish spacecraft that uses ultralight alloys to push power ratios to the limits, albeit sometimes unsafely as it is inspired by Consolidated Outland CEO Silas Koerner's cutting edge vision. And now, with the optional Cargo Carrier, you can have the Alpha's advantages without sacrificing carrying capacity.[1]
Features
Storage Crate: The Mustang Alpha has a 6,000K μSCU internal storage accessible via the storage crate at the aft. This crate is also capable of holding any loose items such as handheld boxes.
Weapons: The Alpha can hit back when required thanks to its nose turret which can hold a pair of Size 2 guns as well as a pair of Size 1 guns that can be placed under the wings.
Specifications
Weapons
Model
Ship profile
Special editions
Mustang Alpha "Vindicator"
| | |
| --- | --- |
| | A limited edition Mustang Alpha with a white livery. It commemorates CitizenCon 2948 and embodies the spirit of daring that defines both the original vision of Silas Koerner and the unyielding determination of the UEE.[2] |
Series variants
Paints
The following paints (skins) can be used on all variants of the Mustang series, except the Mustang Omega.
| Image | Paint Name | Description | Price (aUEC) | Price ($) |
| --- | --- | --- | --- | --- |
| | "Guardian" | Yellow in colour with dark grey accents. | [not available] | 3.00 [3] |
| | "IceBreak" | White colour with metallic dark blue accents. Limited edition. Reward for the 2951 Luminalia event. | [not available] | (Reward) |
| | "Polar" | White colour with grey accents. | [not available] | 5.00 [4] |
| | "Stormbringer" | Dark grey in colour with blue and white accents. | [not available] | 3.00 [5] |
Universe availability
| Shop | Location | 1 day rental price | 3 days rental price | 7 days rental price | 30 days rental price | Game build |
| --- | --- | --- | --- | --- | --- | --- |
| Traveler Rentals | Area18 | 5,028 aUEC | 13,199 aUEC | 26,397 aUEC | 94,275 aUEC | 3.19.1-LIVE.8526421 |
| Vantage Rentals | Lorville | 5,028 aUEC | 13,199 aUEC | 26,397 aUEC | 94,275 aUEC | 3.19.1-LIVE.8526421 |
| Traveler Rentals | Orison | 5,028 aUEC | 13,199 aUEC | 26,397 aUEC | 94,275 aUEC | 3.19.1-LIVE.8526421 |
Gallery
Development
References