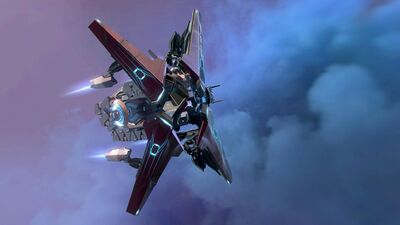 Long term production
Scheduled for 2024
Cargo
320 SCU
32,000 KµSCU <br />320,000,000 µSCU <br />
Standalone
$ 225.00
€ 227.25 <br />£ 191.25 <br />
Warbond
$ 200.00
€ 202.00 <br />£ 170.00 <br />
Availability
Time-limited sales
Length
54 m
0.054 km <br />5,400 cm <br />
Width
52 m
0.052 km <br />5,200 cm <br />
Height
67 m
0.067 km <br />6,700 cm <br />
The Railen ( Xi'an: 9sanrai0len (Proper); literally smooth/peaceful cargo; ) is an upcoming multi-crew Xi'an cargo ship manufactured by Gatac Manufacture. Featuring grav-lev technology and tested design features, the Railen is promoted as a safe and reliable solution for commercial-grade medium cargo hauling.[1]
Features
Grav-Lift Technology: Access the Railen swiftly and effectively with a patented exterior grav-lift and navigate the interior decks with a separate interior grav-lift
Adaptable Cockpit: Designed for both human and Xi'an crew, the cockpit easily adapts for any situation
Fully-loaded Living Space: Adaptable sleeping pods, a comprehensive galley, and an expansive mess hall make the Railen a comfortable ship for long-haul routes.
Unique Cargo Hold: Bespoke triangular cargo-pods are made from high-grade materials in a unique shape to ensure freight remains safe
Specifications
Radar
Scanner
M Scanner
To be determined
Computer
Power plant
L Power Plant
To be determined
Cooler
L Cooler
To be determined
Shield generator
L Shield Generator
To be determined
L Shield Emitter
To be determined
Life support
M Life Support
To be determined
Quantum drive
M Quantum Drive
To be determined
Jump drive
M Jump Module
To be determined
Fuel intake
Fuel tank
Quantum fuel tank
Turret
S4 Weapon
To be determined
Ordnance
Bespoke S4 Missile Rack
To be determined
S1 Missiles
To be determined
Bespoke S3 Missile Rack
To be determined
S2 Missiles
To be determined
Utility items
Model
Ship profile
Paints
Image
Paint Name
Description
Price (aUEC)
Price ($USD)

"Hyaotan"
Black in colour with blue highlights.

Limited edition. Only available to the Concierge backers during the concept sale.[2]

-
11.00
Pledge price history
| Date | Pledge cost (USD) | Insurance | Availability | Sale |
| --- | --- | --- | --- | --- |
| 2021-06-11 | 200 | LTI | Time-limited | |
Gallery
Development
| | |
| --- | --- |
| 2019-11-23 | Announced in CitizenCon 2019 under the provisional name Vehicle 2. It was planned as a multicrew cargo ship of Xi'an origin, and expected to have similar dimensions to Hull B or Freelancer MAX.[3] |
| 2021-05-26 | Hinted on the Gatac Manufacture article on Galactapedia after its update.[4] |
| 2021-06-10 | The name Railen was first revealed in the Inside Star Citizen tease on the official Instagram.[5] |
| 2021-06-11 | Early concept sale for Concierge backers.[6] |
| 2021-06-12 | Concept sale open to public.[1] |
| 2023-05-26 | Announced to be scheduled for production in 2024.[7] |
A small Xi'an cargo ship to compete with the Freelancer MAX and Caterpillar, possessing a cargo capacity and weapon loadout placed between the two.
Produced by Gatac Manufacture.
The ship will be vertical, rather than horizontal - much like the other Xi'an capital and cargo ships designed and shown in concept art.
As one entity manufactures all Xi'an ships for a given role (one manufacturer makes all transport, one makes all light fighters, etc.), it stands to reason that they might all follow a loose template, so it would be nice for the ship to be vertically aligned.
See also
References