This page is rehosted content from the Roberts Space Industries website.
Greetings Citizens,
As you can tell from the counter we have crossed over the astounding $10 million mark! The team at Cloud Imperium is grateful for your incredible support. Your support is letting us build the space sim we've always wanted to play… and we're pleased we're going to share the Star Citizen universe with the community you've formed. As promised, $10 million in crowd-funding means that we can go ahead and build our own motion capture studio, greatly expanding our development capabilities for Star Citizen.
Stay tuned, as big things are coming to the Roberts Space Industries website! In just over two weeks, we'll be launching the all-new website with a 24-hour livestream full of new information about the game and other exciting reveals.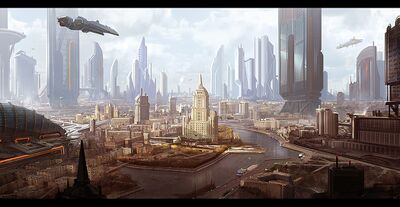 And a very special thanks to Star Citizen Danil Guschin. Danil's pledge was the one that pushed the project over the $10 million limit. In a great coincidence, Danil is from Moscow… one of the locations we are modeling as a spaceport on Earth! In his honor, here is the latest version of the Moscow cityscape concept art.
We're sending Danil home with a special prize for being Mr. $10 Million… the very first Avenger spacecraft off the production lines! What is an Avenger? You'll have to tune in during the livestream to find out more.