Lars Neuer
Race
Human
Gender
Male
Born
2946 (before)
Actor
Parker Sawyers
Current Employment
Occupation
Security
Workplace
UEES Stanton
Branch
UEE Navy
Years of Service
2946 (before) - Present
Lars Neuer is a member of the UEES Stanton's Security team.[1][2] He is portrayed by Parker Sawyers.[3]
During the Vertical Slice, Neuer shows up in two key moments. When going to the bridge, he can be found guarding the elevator, and asks the Player about their combat experience - which initiates a dynamic conversation. Later in the VS, Neuer joins the security detail unloading the OMC prisoners from an Argo MPUV.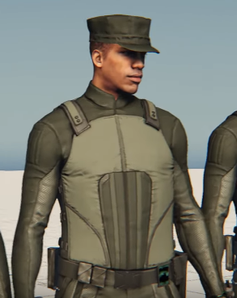 References