When the earth was young and the birth of humanity was underway an ancient alien spaceship crashed into the Argentine Aconcagua mountain on Earth with no survivors and debris scattered over the mountain top. The vessel, a small medical ship was enroute to the hidden base on Earth when it crashed and all hands were lost. The alien base was later abandoned, I believe you humans refer to it as the City of Atlantis.

Fused with the indigenous rock upon impact with the mountain, the alien crystals that had become buried and lost in the wreckage were later found by Argentinean mountain goat herders. Smaller rocks and pebbles around the metaphasic crystals absorbed the radiation. As metaphasic radiation has the power to halt or reverse the aging process the local population soon discovered that wearing one of these pebbles as a necklace or ring helped keep them healthy. Word began to spread about the mystical properties of these small stones around the alien crystals.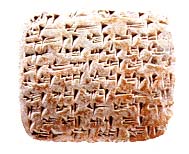 About 8,000 years ago the stones with the alien crystals buried in them made their way to the ancient Earth civilization of Mari as part of a treasure horde. Many years they were hidden with the Mari Tablets for safe keeping while the rest of the eradiated rocks became part of the rulers personal collection. As long as the Metaphasic and Anti-Metaphasic crystals are close to one another the effect are nullified. The tablets remained mainly undisturbed until they were moved to Mount Sinai after the fall of Canaan and the treasure rooms looted.
About 6,000 years ago the stone rectangular tablets with the alien crystals were traded as part of a land deal to a ruler of the ancient Earth Mediterranean civilization of Canaan. To hide the true nature and value of the two crystals the tablets were inscribed with words of wisdom and given to a man named Moses for safe keeping about 4000 years ago.