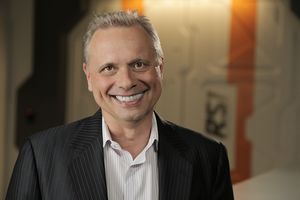 Ortwin Sam Freyermuth is the Co-founder, Vice Chair, General Counsel of Cloud Imperium Games.[1][2][3]
Ortwin Freyermuth is an entertainment and media lawyer focused on financing, development, and production of US-European film, television, and games projects, as well as transatlantic corporate set-ups and operations.[4]
He portrays Kelos Costigan.
Early life
He originally wanted to be a German-French lawyer. When he was studying law in Göttingen, a professor recommended the one-year International Law study programme in Geneva. Very good French language skills are needed to apply, so he took a semester off and learned the language in Paris then got accepted.[5]
His elder brother insisted that Ortwin negotiate his screenplay contracts even during his studies. He found that interesting and got the hang of it. After the first state exam, he started a comparative law doctoral thesis on the reproduction of films for private use. He wanted to become familiar with US copyright law, so again with a scholarship he went to the University of California where he took a master's degree in International Law. After that, he wanted to spend a few months gaining work experience in the USA, which turned into decades.[5]
Other Works
He started off by filling out export documents for an international film distributor. He was totally overqualified for that, but he could read old business files in the basement late at night after work and learn from them. Then the company faced bankruptcy and they remembered his legal qualifications. he helped with various problems – and after the takeover by film production company Vestron he was unexpectedly asked to manage their international legal department. From bottom of the food chain to executive.[5]
During his two weeks of annual leave, he studied day and night for the state bar exam which he passed. In the meantime, he had become known in industry circles as a German-American familiar with the entertainment law in both countries. At Vestron, he was able to establish lots of international contacts, including with Dieter Geissler, producer of 'The NeverEnding Story II'. He poached Ortwin in 1989 to take care of securing funding in Munich, a complex international transaction with thousands of pages of contracts. This subsequently involved providing support as the production progressed, so he was also able to gain practical experience on the set.[5]
Scriba & Deyhle Holding, which had facilitated funding of 'The NeverEnding Story II' was also involved in 'Shattered' – a film written and directed by Wolfgang Petersen. When the producer's funding fell through, Ortwin suggested that they simply took over production and distribution themselvesourselves. They founded 'Capella Films' in Los Angeles and managed to produce and globally distribute 'Shattered'. He was the executive producer of five further films in subsequent years. It was his idea to produce the director's cut version of Wolfgang Petersen's 'Das Boot'. Three years later he founded a company to produce more special editions of classic films. It became insolvent when the Neuer Markt collapsed. Next he established a law practice in Los Angeles.[5]
One of his clients was Chris Roberts, the developer of Wing Commander. He proposed in 2011 that they should jointly set up Cloud Imperium Games. Yet it proved difficult to attract investors to provide funding. So they pursued and further developed the crowdfunding model.[5]
See also
References