This page is rehosted content from the Roberts Space Industries website.
<translate> Day One, Zero Hour

SSN/CAtv Nightly News
Good evening, this is the SSN/CAtv Nightly News for the Terra System. I'm Lawrence Ren. The systems are abuzz about the upcoming wedding between Val Messer and Celia Carter so tonight we take a look at the designers who have been selected to dress the bride and gr-

<<<<< SYSTEM INTERRUPT – UNKNOWN ORIGIN >>>>> </translate>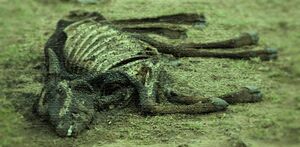 <translate> Humans of the systems. This is Tide. Pull the veil from your eyes and see. Garron II was a developing world with a vast array of species. We say was because they are no more. The Imperator and his Corp minions terraformed the planet, killing everything to feed their insatiable greed. Pull the veil from your eyes and see for yourself.
DAY ONE, HOUR THREE

POLICE COMM INTERCEPT
FIELD UNIT: This is unit B234. We've got an unauthorized gathering in grid 14G. Need additional ground units deployed. Have air support on stand-by.
HOUR FIVE

FIELD UNIT: Get the guard! (indistinct yelling and gunshots) Get the Army. Get whoever the hell you can get and get them here now! We're going to be overrun. (off-mic) You! Shut up and gas 'em. Now!
COMM LOST

DAY TWO
FROM: Admiral Kale, UEE HIGH COMMAND
Terrorists and subjugators are attempting to attack Earth. You are to stop all jump-point traffic. I want every single system locked down. You are authorized to use lethal force on any craft that does not divert. Failure to comply will suffer swift retribution.
Signed,
Admiral Tal Kale
AuthCode: GHISJD_HUDFJD_12
DAY THREE

ADVOCACY INTER-AGENCY MEMO
TO: HIGH ADVOCATE KELLER
FROM: NARA VALE, AAC -
RE: CONSPIRATOR COMM TRAFFIC
Operatives have uncovered how the insurrectionists are still communicating between systems despite the seizure of the CommRelays. Comm messages are broken down into data-segments and embedded into military communications. Analysts are trying to uncover exactly how they accessed our system.
Unfortunately, it's going to take time to find and dismantle their entry points but hopefully this will help disrupt them long enough to get the systems back under control.
Will update as necessary.
DAY EIGHTEEN

LUTHER FREE PRESS FLYER
Posted in Croshaw System
"BOOTS OPEN FIRE AT PROTESTORS"
Brothers and sisters. We have just learned that two days ago, military and police forces opened fire, killing over two-hundred and thirty peaceful demonstrators on Vale. We have tried to be civil. We have resisted the urge to match the violence of this despotic government with violence but now we say, no more. We will no longer wage war with our ideas. We will rip the Imperator out of his throne. So strike out, brothers and sisters, strike at the fiendish fist of your oppressor.

DAY TWENTY-TWO

New United NewsOrg Archive
Published May 3, 2792
"A NEW DAWN"
by. Decklin Farwahl
"We have awoken from a nightmare." Those were the words spoken by the new Imperator Erin Toi yesterday after announcing the capture of Imperator Messer XI. It's a brand new day indeed. Even at this NewsOrg, long an unofficial mouthpiece of the Imperator, we are finally able and encouraged to write the truth, without UEE censors looking over our shoulders.
It's hard to believe, looking back, that the incident on Garron II would be the powder keg that brought it all down. Sure this wasn't a singular catalyst; there were incidents that built up to it. From the bravery of Senator Akari to the Activists who rallied all those years despite incarceration or death.
Aside from instituting term limits for the Imperator, Toi worked with newly elected Senators to restore the Tribunal positions of old. The new High-General, High-Secretary, and High Advocate will work under the Imperator position but with the power to disempower them, should another despot attempt to seize control.
We woke up. Though the day we're facing is unknown, we have seen how far we can fall so we must make sure that every step we take is a step up. </translate>