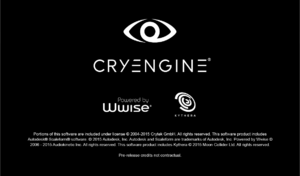 CryEngine is a game engine designed by game developer Crytek. It has been used in all of Crytek titles starting with Far Cry, and continues to be updated to support new consoles and hardware for their games.
It has also been used for many third-party games under Crytek's licensing scheme, including Sniper: Ghost Warrior 2 and SNOW. Warhorse Studios uses a modified version of the engine for their medieval RPG Kingdom Come: Deliverance. Ubisoft maintains an in-house, heavily modified version of CryEngine from the original Far Cry called the Dunia Engine, which is used in their later iterations of the Far Cry series, while Star Citizen used a heavily modified version called the Star Engine.
According to various anonymous reports in April 2015, CryEngine was licensed to Amazon for $50–70 million. Consequently, in February 2016, Amazon released its own reworked and extended version of CryEngine under the name of Amazon Lumberyard.
Background of relationship with CIG
When Chris Roberts was making games in the past he always had to build his own engine, and there was a lot of investment because every single one of his games was made with technology built from the ground up. So a good portion of the development time was spent in actually just building the technology, and now he feel like there's a lot of really good, mature technologies out there that one can just take and build on top of. With time and team size limitations, not having to build the basics of a 3D engine means spending more time making the game, and just enhancing the engine to do things that are perfect for Star Citizen.[1]
He made the decision to go for CryEngine because he felt like its DNA was PC, which is what he is focusing on. It was very powerful and expandable – so CIG was able to take the engine and build extra functionality for the spaceships, which are obviously an important part of the gameplay. In addition the rendering look and feel of CryEngine is more photo-realistic, and he wanted to go for that almost film visual effect, not quite as stylized as some engines come across.[1]
Crytek and CIG agreed to preliminary license terms, and Crytek invested time and expense in creating demonstrations and proofs-of-concept that were used to persuade the public to contribute financially to the crowdfunding campaign to support development of the game.
Chris Roberts spent over a year building the game's backstory and creating a prototype in CryEngine that could be presented at campaign launch.[2]
On November 20, 2012 Crytek officially licensed CryEngine to Cloud Imperium Games, signing the General License Agreement.[3]
CIG needed to make a lot of modifications to CryEngine to suit its needs, and thus it ended up developping its own engine, the Star Engine.
On the 23 of Decenber 2016 CIG announced switching engines to use Amazon Lumberyard, which is itself based on CryEngine[4], in order to utilize the integrated Amazon Web Services (AWS) and Cloud-Computing features "to support next generation online gaming".[5]
On December 12th 2017 Crytek sued CIG and RSI in the Crytek v Cloud Imperium Games lawsuit over copyright infringement and breach of contract among others over claims regarding CryEngine. The lawsuit was dismissed with prejudice in March 2020, meaning that the claims won't be able to be raised again.[6] Evidence uncovered in the lawsuit discovery process about the Amazon License shows that in May 2019, a year and half after launching the lawsuit, Crytek emailed Amazon to ask if it had truly granted CIG a license covering prior versions of CryEngine, including those licensed to CIG under the General License Agreement between Crytek and CIG, which Amazon confirmed.
Engine development is still driven within the CIG studio structure with some of former Crytek employees supervising the project[citation needed].
References