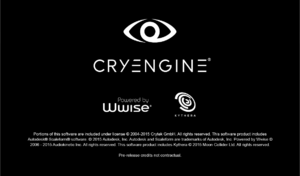 Crytek is a video game and software developer and a publisher.
They have developped among others Farcry, the Crysis series, Warface, Ryse: Son of Rome, Hunt: Showdown and the CryEngine game engine.
Transition Period
In 2014 while wages at Crytek went delayed or unpaid, rumors of Crytek bankruptcy started making the rounds, which Crytek denied.[1] Trust was eroded by the lack of communication. Concerns were raised over the future of Homefront: The Revolution[2] and Ryse 2 got cancelled.[3] Crytek announced having secured capital[4], which was followed by anouncing the sale of Homefront and of Crytek UK to publisher Deep Silver.[5] Staff was downsized by about 200-250 and costs were cut.[6]
"we have two choices: either we let people go immediately and pay the remainder, or we can't pay you right now and we stick together" -Cevat Yerli, Crytek CEO[6]
The primary cause of the financial difficulties according to the CEO was the transformation of the industry, with free-to-play or games as a service - online services in general - to become the future of gaming, which they knewn for a while but were finishing up their retail games or still had them in development. That shift required a whole different capitalisation, as well as additional talent pool and different types of spending and forecasting. All of that caused temporarily diminished capital resource, which Crytek had now said had been overcome.[6]
In 2015, Crytek found emergency funding from Amazon[7][8], which spent millions on CryEngine tech used to create the Lumberyard engine, which was named in the later lawsuit when CIG switched to Lumberyard in 2016.
In December 2016, reports of delayed and unpaid wages surfaced once again.[9][10][11][12] Crytek announced that their studios in Hungary, Bulgaria, South Korea and China would be shut down[13][14].
Then, in January 2017, Crytek found more money by selling Warface publishing rights to Russian-owned game giant My.com[15]
On 7 March 2017, Crytek sold Crytek Black Sea to Sega and The Creative Assembly[16][17].
It was in the context of this transitional phase that the Crytek vs Cloud Imperium Games lawsuit took place and that in this context that a bond was later requested by CIG.
On 28 February 2018, Crytek announced that Cevat Yerli was stepping down as chief executive officer (CEO) of Crytek, with his brothers, Avni and Faruk Yerli, taking over the company's leadership as joint CEOs.[18]
The annual report published by Cloud Imperium Games in early 2021 revealed that Cloud Imperium Games acquired a license for CryEngine from Crytek in 2020.[19]
Crytek has released all three Crysis games Remastered, The Climb 2 for Occulus Quest 1 and 2, and is currently working on Crysis 4.
Crytek vs Cloud Imperium Games
Crytek v. Cloud Imperium Games corp and Roberts Space industries was a lawsuit brought by Crytek for copyright infringement and breach of contract.
The lawsuit was based on the General Licence Agreement (GLA) that both parties signed, and Crytek was asking for direct and indirect damages as well as a permanent injunction against further use of the CryEngine in any Star Citizen or Squadron 42 materials.[20] Crytek did not attach the General License Agreement to its complaint, which CIG later called deliberately ommiting and hiding, to which Crytek answred it had no obligation to do so and that it contained sensitive business information. The GLA was attached to the lawsuit by CIG.
The lawsuit lasted from December 12th 2017 to March 2020 and ended as a dismissal with prejudice, meaning that the claims won't be able to be raised again.[21]
Employees
Crytek staff that joined CIG at one point or another includes among others John Crewe, Todd Papy, Christopher Bolte, Steve Bender, Brian Chambers, Caleb Essex, Sean Tracy, Dan Tracy and Michel Kooper.
In 2014, Cloud Imperium Games wasn't legally allowed to poach Crytek staff, however after Crytek failed to pay their staff for 2,5 months some of their staff left to look for other jobs[22], some of whom went to Cloud Imperium Games of their own accord.[23][24][25]
Quotes
See also
External Links
References