This page is rehosted content from the Roberts Space Industries website.
Galerie nationale Bentley
Auto-Tour Info sur la peinture
Œuvre : "Larmes de feu"
Artiste : Aaron Fring
Créé : 2610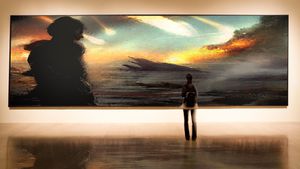 Devant vous se tient l'une des images les plus durables et marquantes de la Second Tevarin War (2603-2610). Cette pièce a été incorporée aux archives du coffre fort pour les antiquités de l'UPE en 2633.
L'artiste, Aaron Fring, est né sur Ferron en 2578, ses parents, Max et Mary Fring étaient respectivement professeur et pilote. Étant enfant, il souffrit de la Kilos' Malady et est resté cloué au lit pendant plus d'une année. Durant cette période, il passait son temps à dessiner. Devenu un jeune adulte, Fring s'engagea dans un corps Expéditionnaire en tant que médecin de terrain. Il voyagea dans une multitude de systèmes avant de finalement décider de s'installer sur Elysium IV.
Opérant une petite station médicale pendant la journée, Fring a repris la peinture la nuit. On pouvait souvent le trouver errant dans le paysage pendant des heures, peignant tout ce qu'il voyait. S'il s'est montré prometteur en tant qu'artiste paysagiste, il n'a jamais fait beaucoup d'impression sur la communauté artistique. Bien qu'il souhaitait plus, Fring se contentait de sa pratique et de son hobby.
En 2603, un nouveau chef de guerre Tevarin, Corath'Thal, surgit des confins du cosmos avec une flotte militaire Tevarin reconstituée et lança une première attaque sur un système de l'UPE. Le seul objectif des Tevarins était de récupérer Elysium IV, leur planète natale. Les colonies d'Elysium IV s'empressèrent de prendre les armes pour se défendre. Fring essaya de les rejoindre mais la même maladie dont il avait souffert quand il était enfant resurgi, l'empêchant d'aller accomplir son devoir.
Le 24 juin 2610, Corath'Thal subit une terrible défaite contre le Squadron 42 durant la fameuse Battle of Centauri. Voyant sa flotte courir à la destruction ou la capitulation, Corath'Thal rassembla ses derniers pilotes loyaux pour tenter une percée désespérée vers Elysium IV. Bien qu'elle subît 70% de pertes, sa flotte parvint finalement à atteindre l'atmosphère de leur monde natal.
Corath'Thal et ses pilotes ont baissé leurs boucliers thermiques et plongé pour la planète.
Aaron Fring marchait ce soir-là. Sa maladie s'était un peu calmée. Il sentait qu'il devait sortir et se vider la tête. Il a erré dans le paysage comme il l'avait fait plusieurs fois auparavant. Sur la crête d'une colline, il a vu quelque chose de spectaculaire :
La flotte Tevarin brûle dans l'atmosphère alors qu'elle se dirige vers le sol.
De l'art aujourd'hui (2613) :
"Comme pour la plupart des œuvres d'art, je n'essayais pas de représenter le moment exactement tel qu'il était. C'est ce que j'avais toujours fait dans le passé, mais c'était quelque chose de beaucoup plus que le visuel. Il y avait tellement de complexité dans cette action, du Tevarin, pour ce qu'elle signifiait pour nous en tant qu'espèce, et ce qu'elle signifiait pour moi. Je voulais juste essayer de capturer le sentiment de cette fraction de temps. Si belle et si triste."
Aaron Fring
<languages/>