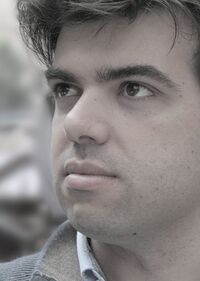 Pedro Macedo Camacho is a Portuguese composer for music featured in Star Citizen.[1][2][3] He lives on the Madeira Islands in Portugal. He had been composing Star Citizen music since 2012. His first work was the 300i ship commercial.[4]
Music
Other works
He has composed music for several games such as Audiosurf (2007), Civilization V,[6] Wolfenstein, World of Wacraft: Shadowlands.[7]
When he started working on Star Citizen he was also hired to work on The Witcher 3,[8] initially to help the main composer then as a composer, and at some point had to choose between the two games and chose Star Citizen.[9]
Trivia
See also
References
↑ Pedro Camacho, David Ladyman and Ben Lesnick, Behind the Screens: Composers, Jump Point, vol. 6, no. 4, pp. 3-10, 2018-04-27.
↑ Portuguese Nation Theme (Maria), Soundcloud
↑ 7.0 7.1 7.2 David Ladyman,

 

"Composers Pedro Camacho". Jump Point. Vol. 06 no. 04. pp.03–10.
↑ Witcher 3 Theme, Soundcloud
↑ 9.0 9.1 Journey through Star Citizen Music with Pedro Camacho,Pulsar 42, YouTube, 16 Jun 2019