Jump Point is a monthly digital magazine available to the community subscribers on the RSI website. It is published by Editor Ben Lesnick (since June 2018, former editor was freelancer David Ladyman (Incan Monkey God Studios) and provides additional information to Star Citizen's and Squadron 42's development through Behind-The-Scenes articles, interviews and Work-In-Progress art pieces mixed with in-lore articles and continuing short stories. Although the content is initially restricted to subscribers, CIG releases parts of older issues on the RSI website or as printed hardcover versions buyable through the online store.[1]
Content
Pre-2018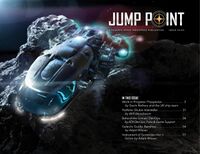 The magazine usually consists of around 50-60 pages with up to 5 chapters. Nearly half of the pages are dedicated to a Work-In-Progress art showcase that focuses on the design process of a specific ship or location from concept to the (almost) final model. The other half contains a deeper look into certain parts of development via interviews and two in-lore articles giving background information on corporations, star systems or locations (later released e.g. as Galactic Guide Spectrum Dispatch). Each issue finishes with a multi-part short story contributed by an external or internal writer.[2]
Post-2018
In 2018, five years after the initial release of the magazine, it went through a major redesign led by Will Turner (Marketing Art Director). It was first featured in the first issue in 2018. The content emphasizes more on the game and its development rather than lore fiction from before. The previous "Work in Progress" section changed to narration from Ben Lesnick (Ship Pipeline Manager) instead of raw developer conversations. The new redesign also changed some section names and includes several new sections, including the "Galactapedia".[3]
Beginning with issue 06.06, David Ladyman retired as editor with Ben Lesnick as his replacement.[4]
Printed Hardcover Jump Point Volumes
CIG sold to date (October 2018) three limited hard-cover book versions (Jump Point Volume 1, Volume 2 and Volume 3) containing issues released in the first, second and third year of the subscriber program.[5]
No definitive statement was given by CIG whether a reprint of sold-out volumes is planned for the near future.
List of released Jump Point Issues
2013: Year One
| Volume | № | Issue | Article | Category | Subcategory | Title of Issue |
| --- | --- | --- | --- | --- | --- | --- |
| I | 01 | 01.01 | Letter introducing Jump Point by Sandi Gardiner | From the Cockpit | | Mayan End Of The World Edition |
| I | 01 | 01.01 | 300i Work in Progress | Work in Progress | Ships | Mayan End Of The World Edition |
| I | 01 | 01.01 | "24-Hour Livestream Campaign" by Ben Lesnick | Behind the Scenes | Events | Mayan End Of The World Edition |
| I | 01 | 01.01 | "Whisperer in the Dark" by David Haddock | Lore - Spectrum Dispatch | Short story | Mayan End Of The World Edition |
| I | 01 | 01.01 | Hornet Blueprints | Work in Progress | Ships | Mayan End Of The World Edition |
| I | 02 | 01.02 | From the Editor | From the Cockpit | | Last Flight Of The Seraphim |
| I | 02 | 01.02 | Bengal | Work in Progress | Ships | Last Flight Of The Seraphim |
| I | 02 | 01.02 | An Interview with Erin Roberts | Behind the Scenes | Interview | Last Flight Of The Seraphim |
| I | 02 | 01.02 | Kellog System | Lore - Spectrum Dispatch | Star Systems | Last Flight Of The Seraphim |
| I | 02 | 01.02 | "Last Flight of the Seraphim (Part 1)" by David Haddock | Lore | Short story | Last Flight Of The Seraphim |
| I | 03 | 01.03 | UEE Naval Pilot | Work in Progress | Characters | Flying Into A Hornet's Nest |
| I | 03 | 01.03 | An Interview with Jason Spangler | Behind the Scenes | Interview | Flying Into A Hornet's Nest |
| I | 03 | 01.03 | "Last Flight of the Seraphim (Part 2)" by David Haddock | Lore | Short story | Flying Into A Hornet's Nest |
| I | 03 | 01.03 | Anvil Aerospace | Lore - Spectrum Dispatch | Corporations | Flying Into A Hornet's Nest |
| I | 03 | 01.03 | Hornet | Work in Progress | Ships | Flying Into A Hornet's Nest |
| I | 03 | 01.03 | Cathcart System | Lore - Spectrum Dispatch | Star Systems | Flying Into A Hornet's Nest |
| I | 04 | 01.04 | Vanduul Warrior | Work in Progress | Characters | The Vanduul Horde |
| I | 04 | 01.04 | An Interview with Chris Olivia | Behind the Scenes | Interview | The Vanduul Horde |
| I | 04 | 01.04 | Vanduul Empire | Lore | Vanduul | The Vanduul Horde |
| I | 04 | 01.04 | "Last Flight of the Seraphim (Part 3)" by David Haddock | Lore | Short story | The Vanduul Horde |
| I | 04 | 01.04 | Vanduul Scythe | Work in Progress | Ships | The Vanduul Horde |
| I | 04 | 01.04 | Orion System | Lore - Spectrum Dispatch | Star Systems | The Vanduul Horde |
| I | 05 | 01.05 | An Interview with Dave Haddock | Behind the Scenes | Interview | Aurora First Light |
| I | 05 | 01.05 | "The Void Rats (Part 1)" by Doug Niles | Lore | Short story | Aurora First Light |
| I | 05 | 01.05 | Roberts Space Industries | Lore - Spectrum Dispatch | Corporations | Aurora First Light |
| I | 05 | 01.05 | Aurora | Work in Progress | Ships | Aurora First Light |
| I | 05 | 01.05 | Earth System | Lore - Spectrum Dispatch | Star Systems | Aurora First Light |
| I | 06 | 01.06 | An Interview with Rob Irving | Behind the Scenes | Interview | Charting The Constellation |
| I | 06 | 01.06 | "The Void Rats (Part2)" by Doug Niles | Lore | Short story | Charting The Constellation |
| I | 06 | 01.06 | Hurston Dynamics | Lore - Spectrum Dispatch | Corporations | Charting The Constellation |
| I | 06 | 01.06 | Constellation | Work in Progress | Ships | Charting The Constellation |
| I | 06 | 01.06 | Stanton System | Lore - Spectrum Dispatch | Star Systems | Charting The Constellation |
| I | 07 | 01.07 | An Interview with Zane Bien & John Erskine | Behind the Scenes | Interview | The Next Generation Is Now |
| I | 07 | 01.07 | "The Void Rats (Part 3)" by Doug Niles | Lore | Short story | The Next Generation Is Now |
| I | 07 | 01.07 | Origin Jumpworks | Lore - Spectrum Dispatch | Corporations | The Next Generation Is Now |
| I | 07 | 01.07 | 300 Series | Work in Progress | Ships | The Next Generation Is Now |
| I | 07 | 01.07 | Terra System | Lore - Spectrum Dispatch | Star Systems | The Next Generation Is Now |
| I | 08 | 01.08 | UEE Marine | Work in Progress | Characters | A Few Good Men |
| I | 08 | 01.08 | An Interview with Pete Mackay & Rob Irving (The Economy) | Behind the Scenes | Interview | A Few Good Men |
| I | 08 | 01.08 | "The Cup (Part 1)" by Robert Waters | Lore | Short story | A Few Good Men |
| I | 08 | 01.08 | UEE Marines | Lore - Spectrum Dispatch | Corporations | A Few Good Men |
| I | 08 | 01.08 | Kilian System | Lore - Spectrum Dispatch | Star Systems | A Few Good Men |
| I | 08 | 01.08 | Behring P4SC Assault Rifle | Work in Progress | Weapons | A Few Good Men |
| I | 09 | 01.09 | Hangars (Discount, Business, and Deluxe) and Buggy | Work in Progress | Locations | Hanging Out |
| I | 09 | 01.09 | Hangar Corporations | Lore - Spectrum Dispatch | Corporations | Hanging Out |
| I | 09 | 01.09 | Gamescom Final Push! | Behind the Scenes | Events | Hanging Out |
| I | 09 | 01.09 | "The Cup (Part 2)" by Robert Waters | Lore | Short story | Hanging Out |
| I | 09 | 01.09 | Ellis System | Lore - Spectrum Dispatch | Star Systems | Hanging Out |
| I | 10 | 01.10 | Privateer Player Character | Work in Progress | Characters | Lawyers, Guns And Money |
| I | 10 | 01.10 | "Convention Report" by Ben Lesnick | Behind the Scenes | Events | Lawyers, Guns And Money |
| I | 10 | 01.10 | "The Cup (Part 3)" by Robert Waters | Lore | Short story | Lawyers, Guns And Money |
| I | 10 | 01.10 | Klaus & Werner | Lore - Spectrum Dispatch | Corporations | Lawyers, Guns And Money |
| I | 10 | 01.10 | Hornet Revamp | Work in Progress | Ships | Lawyers, Guns And Money |
| I | 10 | 01.10 | Goss System | Lore - Spectrum Dispatch | Star Systems | Lawyers, Guns And Money |
| I | 10 | 01.10 | "Designing the CF-007" by Pete Mackay, Ted Beargeon, Patrick Thomas, and Daniel Craig | Behind the Scenes | Weapons | Lawyers, Guns And Money |
| I | 11 | 01.11 | "Modular Environment Summit" by its participants | Behind the Scenes | Events | Born Free |
| I | 11 | 01.11 | "The Void Rats (Part 4)" by Doug Niles | Lore | Short story | Born Free |
| I | 11 | 01.11 | MISC | Lore - Spectrum Dispatch | Corporations | Born Free |
| I | 11 | 01.11 | Freelancer | Work in Progress | Ships | Born Free |
| I | 11 | 01.11 | Centauri System | Lore - Spectrum Dispatch | Star Systems | Born Free |
| I | 12 | 01.12 | An Interview with Rob Irving (Piratey Stuff) | Behind the Scenes | Interview | Drawing The Cutlass |
| I | 12 | 01.12 | "The Void Rats (Part 5)" by Doug Niles | Lore | Short story | Drawing The Cutlass |
| I | 12 | 01.12 | Drake Interplanetary | Lore - Spectrum Dispatch | Corporations | Drawing The Cutlass |
| I | 12 | 01.12 | Cutlass | Work in Progress | Ships | Drawing The Cutlass |
| I | 12 | 01.12 | Magnus System | Lore - Spectrum Dispatch | Star Systems | Drawing The Cutlass |
| I | 13 | 01.13 | An Interview with Turbulent (Organizations Organization) | Behind the Scenes | Interview | Avengers Assemble |
| I | 13 | 01.13 | "The Void Rats (Part 6)" by Doug Niles | Lore | Short story | Avengers Assemble |
| I | 13 | 01.13 | Aegis Dynamics | Lore - Spectrum Dispatch | Corporations | Avengers Assemble |
| I | 13 | 01.13 | Avenger | Work in Progress | Ships | Avengers Assemble |
| I | 13 | 01.13 | Davien System | Lore - Spectrum Dispatch | Star Systems | Avengers Assemble |
2014: Year Two
2015: Year Three
Volume
№
Issue
Article
Category
Subcategory
Title
III
26
03.01
Accelerated Mass Design
Lore
Corporations
Riding Herd
III
26
03.01
"Phantom Bounty (Part 1)" by Autumn Kalquist
Lore
Short story
III
26
03.01
Bug-Hunting
Behind the Scenes
Interview
III
26
03.01
Mustang Variants
Work in Progress
Ships
III
26
03.01
Helios System
Lore
Star Systems
III
27
03.02
ArcCorp
Lore
Corporations
The ArcCorp™ Issue
III
27
03.02
ArcCorp and the Persistent Universe
Behind the Scenes
Interview
III
27
03.02
ArcCorp
Work in Progress
Locations
III
27
03.02
"Phantom Bounty (Part 2)" by Autumn Kalquist
Lore
Short story
III
27
03.02
Vega System
Lore
Star Systems
III
28
03.03
User Interface Design
Behind the Scenes
Game Design
Retaliation At Last
III
28
03.03
78th Squadron
Lore
UEE Navy
III
28
03.03
"Phantom Bounty (Part 3)" by Autumn Kalquist
Lore
Short story
III
28
03.03
Retaliator
Work in Progress
Ships
III
28
03.03
Tyrol System
Lore
Star Systems
III
29
03.04
This is IT
Behind the Scenes
Interview
Leading The Way
III
29
03.04
Fuel Pump, Cry-Astro & CTR
Lore
Corporations
III
29
03.04
"Phantom Bounty (Part 4)" by Autumn Kalquist
Lore
Short story
III
29
03.04
Vanguard Concept / Station
Work in Progress
Ships
III
29
03.04
Osiris System
Lore
Star Systems
III
30
03.05
Covalex Shipping
Lore
Corporations
The Hull Truth
III
30
03.05
Economy Boardgame
Behind the Scenes
Game Design
III
30
03.05
"Brothers In Arms (Part 1)" by Andy Rogers
Lore
Short story
III
30
03.05
Hull Series
Work in Progress
Ships
III
30
03.05
Oso System
Lore
Star Systems
III
31
03.06
Website revamp
Behind the Scenes
Interview
Stand By Me
III
31
03.06
"Brothers In Arms (Part 2)" by Andy Rogers
Lore
Short story
III
31
03.06
Cubby Blast
Lore
Corporations
III
31
03.06
Reliant
Work in Progress
Ships
III
31
03.06
Tal System
Lore
Star Systems
III
32
03.07
Spotlight: Anderson Bordim, UX Designer and

Information Architect, and Michel Labelle, Creative / Art Director, Turbulent

Behind the Scenes
Spotlight
Creating Magic
III
32
03.07
Spotlight: Ken Fairclough, Associate Concept Artist, CIG Austin
Behind the Scenes
Spotlight
III
32
03.07
Spotlight: Tom Johnson, Senior Project Manager, Foundry 42
Behind the Scenes
Spotlight
III
32
03.07
Spotlight: Christine Marsh, Lead User Interface Designer, Behaviour
Behind the Scenes
Spotlight
III
32
03.07
Kruger Intergalaktische
Lore
Corporations
III
32
03.07
Ship & Internal Component Classifications
Behind the Scenes
Game Design
III
32
03.07
Arena Commander Alpha 1.1.5 Preview
Behind the Scenes
Gameplay Mechanics
III
32
03.07
"Brothers In Arms (Part 3)" by Andy Rogers
Lore
Short story
III
32
03.07
P-52 Merlin
Work in Progress
Ships
III
32
03.07
Castra System
Lore
Star Systems
III
33
03.08
FPS Armor
Work in Progress
Assets
The Producers
III
33
03.08
The Producers
Behind the Scenes
Interview
III
33
03.08
Kastak Arms
Lore
Corporations
III
33
03.08
"Brothers In Arms (Part 4)" by Andy Rogers
Lore
Short story
III
33
03.08
Ferron System
Lore
Star Systems
III
34
03.09
FPS Weapons and Gadgets
Work in Progress
Weapons
Opening Doors
III
34
03.09
Persistence Commences
Behind the Scenes
Interview
III
34
03.09
InterDimension Software
Lore
Corporations
III
34
03.09
"One Last Job (Part 1)" by Amanda McCarter
Lore
Short story
III
34
03.09
Croshaw System
Lore
Star Systems
III
35
03.10
Frankfurt Office
Behind the Scenes
Interview
Ein Praechtiges Unterfangen
III
35
03.10
Spotlight: The Senate
Behind the Scenes
Locations
III
35
03.10
Spotlight: Admiral Bishop's face
Behind the Scenes
Characters
III
35
03.10
BiotiCorp
Lore
Corporations
III
35
03.10
"One Last Job (Part 2)" by Amanda McCarter
Lore
Short story
III
35
03.10
Endeavor
Work in Progress
Ships
III
35
03.10
Rhetor System
Lore
Star Systems
III
36
03.11
Million Mile High Club
Work in Progress
Locations
Meeting Places
III
36
03.11
PU Developments (UI, Ship Components, Shopping)
Behind the Scenes
Spotlight
III
36
03.11
Apocalypse Arms
Lore
Corporations
III
36
03.11
"One Last Job (Part 3)" by Amanda McCarter
Lore
Short story
III
36
03.11
Nexus System
Lore
Star Systems
III
37
03.12
Starmap
Behind the Scenes
Interview
Refining The Verse
III
37
03.12
The Ark
Lore
Corporations
III
37
03.12
"One Last Job (Part 4)" by Amanda McCarter
Lore
Short story
III
37
03.12
Crucible
Work in Progress
Ships
III
37
03.12
Tayac System
Lore
Star Systems
2016: Year Four
2017: Year Five
Volume
№
Issue
Article
Category
Subcategory
Title
V
50
05.01
Razor
Ships
Work In Progress
V
50
05.01
koa e Ko'ia race
Lore
Corporations
V
50
05.01
Jump Point 50th issue
Behind the Scenes
V
50
05.01
Hadur
Lore
Star Systems
V
50
05.01
Drifters (Episode 1)
Lore
Short Story
V
51
05.02
Star Marine arenas
Work In Progress
V
51
05.02
Star Marine community board
Lore
Corporations
V
51
05.02
Balancing ships
Behind the Scenes
V
51
05.02
Kallis
Lore
Star Systems
V
51
05.02
Drifters (Episode 2)
Lore
Short Story
V
52
05.03
A4A Hurricane
Ships
Work In Progress
V
52
05.03
Casse Aerospace
Lore
Corporations
V
52
05.03
Artificial intelligence
Behind the Scenes
V
52
05.03
Charon
Lore
Star Systems
V
52
05.03
Drifters (Episode 3)
Lore
Short Story
V
53
05.04
Defender
Ships
Work In Progress
V
53
05.04
Basilisk
Lore
Corporations
V
53
05.04
Sound design
Behind the Scenes
V
53
05.04
Hadrian
Lore
Star Systems
V
53
05.04
Drifters (Episode 4)
Lore
Short Story
V
54
05.05
Eclipse
Ships
Work In Progress
V
54
05.05
Ascension Astro
Lore
Corporations
V
54
05.05
Spectrum
Behind the Scenes
V
54
05.05
Gliese
Lore
Star Systems
V
54
05.05
Sid & Cyrus (Part 1)
Lore
Short Story
V
55
05.06
Ship thruster placement guide
Ships
Work In Progress
V
55
05.06
Rayari
Lore
Corporations
V
55
05.06
Environments
Behind the Scenes
V
55
05.06
Garron
Lore
Star Systems
V
55
05.06
Sid & Cyrus (Part 2)
Lore
Short Story
V
56
05.07
Nox
Ships
Work In Progress
V
56
05.07
Trade & Development Division
Lore
Corporations
V
56
05.07
The Nox Caper
Behind the Scenes
V
56
05.07
Pallas
Lore
Star Systems
V
56
05.07
Sid & Cyrus (Part 3)
Lore
Short Story
V
57
05.08
Tumbril Cyclone Buggy
Ships
Work In Progress
V
57
05.08
Tumbril Cyclone
Lore
Corporations
V
57
05.08
Audio. Part 2: Dialogue
Behind the Scenes
V
57
05.08
Crusader's Moons
Lore
Star Systems
V
57
05.08
A gift for Baba (Part 1)
Lore
Short Story
V
58
05.09
3.0 Ship Updates: Aurora,

Constellation Aquila, Cutlass, Prospector

Ships
Work In Progress
V
58
05.09
RSI Roberts Space Industries
Lore
Corporations
V
58
05.09
Gamescom Demo
Behind the Scenes
V
58
05.09
Tohil
Lore
Star Systems
V
58
05.09
A gift for Baba (Part 2)
Lore
Short Story
V
59
05.10
600i
Ships
Work In Progress
V
59
05.10
Yorm
Lore
Corporations
V
59
05.10
The State of Stats
Behind the Scenes
V
59
05.10
Branaugh
Lore
Star Systems
V
59
05.10
"A Gift for Baba (Part 3)" by Will Weissbaum
Lore
Short Story
V
60
05.11
Pioneer
Ships
Work In Progress
V
60
05.11
Whitley's Guide
Lore
Corporations
V
60
05.11
Character Art
Behind the Scenes
V
60
05.11
Min
Lore
Star Systems
V
60
05.11
"The Payout" by David Haddock
Lore
Short Story
V
61
05.12
Idris (Part 3)
Ships
Work In Progress
V
61
05.12
Chemline Solutions
Lore
Corporations
V
61
05.12
3.0 Free for All
Behind the Scenes
V
61
05.12
Idris
Lore
Star Systems
V
61
05.12
"The Shakedown" by Will Weissbaum
Lore
Short Story
2018: Year Six
Volume
№
Issue
Article
Category
Subcategory
Title
VI
62
06.01
Vehicles - The Tumbril Nova
Ships
Work In Progress
VI
62
06.01
Ecology - Xiphopod
Lore
Galactapedia
VI
62
06.01
Squadron 42 Cinematics Team
Behind the Screens
VI
62
06.01
Squadron 42 Design Team
Behind the Screens
VI
63
06.02
Levski
Stations
Work In Progress
VI
63
06.02
The Anvil Terrapin-Class Pathfinder
Lore
Whitley's Guide
VI
63
06.02
Environment Art Team, DE
Behind the Screens
VI
63
06.02
Where In The 'Verse
Where In The 'Verse
VI
63
06.02
One Question
One Question
VI
64
06.03
Aegis Vulcan
Ships
Work In Progress
VI
64
06.03
Emperor Bloom
Lore
Galactapedia
VI
64
06.03
Music Team, UK
Behind the Screens
VI
64
06.03
Where In The 'Verse
Where In The 'Verse
VI
64
06.03
What was the first game

& system you played? (Part 1)

One Question
VI
65
06.04
Origin 100 Series
Ships
Work In Progress
VI
65
06.04
300i
Lore
Whitley's Guide
VI
65
06.04
Composers
Behind the Screens
VI
65
06.04
Where In The 'Verse
Where In The 'Verse
VI
65
06.04
What was the first game

& system you played? (Part 2)

One Question
VI
66
06.05
Crusader Hercules Starlifter
Ships
Work In Progress
VI
66
06.05
Radegast Whiskey
Lore
Galactapedia
VI
66
06.05
Optimization
Behind the Screens
VI
66
06.05
Where In The 'Verse
Where In The 'Verse
VI
66
06.05
What was the last book you read?
One Question
VI
67
06.06
Aegis Reclaimer
Ships
Work In Progress
VI
67
06.06
MISC Prospector
Lore
Whitley's Guide
VI
67
06.06
Mining Mechanic
Behind the Screens
VI
67
06.06
-
Where In The 'Verse
VI
67
06.06
What's your favourite science fiction spacecraft?
One Question
VI
68
06.07
Drake Vulture
Ships
Work In Progress
VI
68
06.07
Vasil Fragment Stone
Lore
Galactapedia
VI
68
06.07
Combat AI
Behind the Screens
VI
68
06.07
-
Where In The 'Verse
VI
68
06.07
What is your first Star Citizen memory?
One Question
VI
69
06.08
RSI Apollo
Ships
Work In Progress
VI
69
06.08
Tumbril Cyclone
Lore
Whitley's Guide
VI
69
06.08
Racing
Developer Interview
VI
69
06.08
-
Where In The 'Verse
VI
69
06.08
What's your favourite science fiction alien race?
One Question
VI
70
06.09
-
Ships
Work In Progress
VI
70
06.09
-
Lore
Galactapedia
VI
70
06.09
-
Behind the Screens
VI
70
06.09
-
Where In The 'Verse
VI
70
06.09
-
One Question
VI
71
06.10
-
Ships
Work In Progress
VI
71
06.10
-
Lore
Whitley's Guide
VI
71
06.10
-
Behind the Screens
VI
71
06.10
-
Where In The 'Verse
VI
71
06.10
-
One Question
VI
72
06.11
-
Ships
Work In Progress
VI
72
06.11
-
Lore
Galactapedia
VI
72
06.11
-
Behind the Screens
VI
72
06.11
-
Where In The 'Verse
VI
72
06.11
-
One Question
VI
73
06.12
-
Ships
Work In Progress
VI
73
06.12
-
Lore
Whitley's Guide
VI
73
06.12
-
Behind the Screens
VI
73
06.12
-
Where In The 'Verse
VI
73
06.12
-
One Question
References