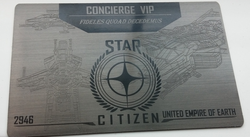 The Concierge (also known as the Chairman's Club) status is assigned to backers with purchases equal to or exceeds $1,000 USD. The primary benefit of this status is to be assigned a personal concierge within the RSI staff to answer your questions, requests, and answer to your needs. Concierge members are included in the first wave of Public Test Universe.[1]

As the number of concierges grew, different groups/levels have been introduced in order to better differentiate according to contributions.[2]

The concierge status confers other benefits with larger total purchase amounts, as seen below:
In-Lore Concierge Services
A number of in-lore companies exist to complement and explain some of the real-world and tangible in-game benefits Concierge members enjoy.[3]
| Company Name | Industry Division | Known Services |
| --- | --- | --- |
| Epulae Dining | Concierge dining services | Arranges reservations and access for dining, cocktail bars and nightclubs, such as the exclusive restaurant in Murray Tower, Aydo, Green. |
| Imperial Access | Events management and concierge event services | Arranges special events for Chairman's Club members, and acquires hard-to-get tickets and VIP access for events such as Prime Fashion Week. |
| Sharrington's Cross | Shopping consultancy | Curates catalogues of exclusive luxury products. Arranges acquisition and delivery of high-end goods across the Empire. Operates at least one showroom on Earth. |
| Visangio | Travel and Holidays | Operate a fleet of luxury Genesis Starliners and a number of resorts, including the Lagora Island Chateau on Tangaroa. |
References