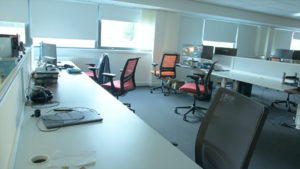 The COVID-19 pandemic, also known as the coronavirus pandemic, is a global pandemic which started in 2019 and affected how Star Citizen was developed from 2020 to 2022.
Transition
In order to reduce the risk of infection and slow down the rate of infection, many countries introduced among others quarantines, moratoriums against large gatherings and stay-at-home orders for non-essential activities, leading to remote work where possible.[1][2][3]
Cloud Imperium Games began the transition to work from home in March 2020.[4][5]
CIG was already structured for distributed development across the world.[6][7] It was necessary to figure out who needs what to work from home and what is or isn't working quiete right.[7]
From a publishing standpoint, pretty much everything is done via remote delivery systems anyway even within the office itself.[7]
The transition from office to work from home took about a week and was easier than anticipated.[7][8]
Steps were taken to ensure that everyone was healthy and doing alright and needs to be checked in on, what are people mental states.[6][7]
Recruitment
Some people joined CIG because the pandemic had affected their previous work.[9]
Turbulent would go to conventions, events, universities, to recruit, but the pandemic closed a lot of that. [10]
Work from home
Because of the pandemic a lot of people have been working remote frome home, and those recruited during the pandemic were meeting their colleagues in person for the first time after having already worked together for a while.[11][12][13]
People would normally meet in the workplace and greet each other even without reasons to talk to each other for work purposes, however while working from home people would have no reason to know someone they don't work with directly exists.[14]
Audio teams had to take into acoustics at home, working from their spare rooms or dining rooms for example.[4]
With people having their families at home some time was needed by people to teach their kids themselves due schools being closed, or to take care of their kids while daycare was closed.[7]
Consequences
The VPN was an issue as it wasn't built to have so many people use it so much.[7]
Internet speeds and data caps were problematic, with game builds being 60 Gigabytes having to be tested daily.[7]
Security and risk of exposure and data loss had to be taken care of as well.[7]
A hold had to be put on some things requiring a group of people working together in a shared and confined space.[8] This includes for example motion capture.[15]
Shows such as Calling All Devs, Star Citizen Live or Inside Star Citizen featured a lot more home offices.[6]
Remote communication wasn't the same as in person,[7] with the missing benefits of spontaneous collaboration and team building that comes from working in person, near each other, such as the ability to walk over to someone's desk and see the issue or having a conversation in passing about a problem or a creative thought.[16][17]
When everyone is working remotely it becomes more of a slog to problem solve on the fly, or easily get or give feedback, which results in far more meetings / video calls[17]
it took CIG a little longer to get each patch out than before, and it became harder to solve or fix bugs which hung around longer than previously. This trend was seen in the gaming industry as a whole, with pretty much any large title being delayed, or in some unfortunate cases released before they should have been.[18][17]
The transitioning to a new work-from-home environment caused some delays.[19]
Live events
Citizencon 2020 scheduled in Los Angeles was cancelled due to a moratorium against large gatherings, not to mention travel issues during quarantine[20][21], while Citizencon 2021 and Citizecon 2022 were made digital.[22][23]
Some Bar Citizen have been cancelled, while some of the ones that were held had restrictions and reminders were made to avoid handshakes, hugs and to take precautions.[24][25]
Other
Before becoming CIG employees, students reported that COVID had affected their studies at the time, for example Natalie Wilson was unable to do her motion capture project and instead she taught herself how to clean up motion capture data.[9]
Gavin Rothery has made a movie called Archive which release was affected by the pandemic as most movie theaters were closed or had restrictions on the number and spacing of available seats.[26]
Weekly playtests have become a more important space for the company to play and interact together and socialize together.[7]
Return to office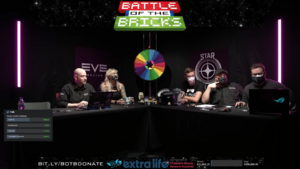 In mid 2022 return to office got staggered by department while the vaccine mandate got dropped.
The first studio where it became possible to start working together in person, at any scale, was the UK studio in Manchester, the offices in Frankfurt, Austin, and Los Angeles followed once the local authorities deemed it safe enough to lift various requirements.[17]
Going back to the office did not mean a return to the old work patterns and policies, as the extended lockdowns, combined with working remotely for two years has given CIG new insights into work life balance for the staff. CIG has altered its global work policy to allow for flexi-hours and a hybrid of in person and work from home, depending on both an employee's and manager's needs, with emphasis on being cognizant of the employees' life situations.[17]
Quotes
"This is like out of a movie i don't understand, watch everybody kind of pack up their stuff and move out the office." -Zoe Collier[7]
"As a programmer the whole lockdown pandemic thing has been perfect for me because anything that minimizes social interactions is fine by me" - Graham Philipson[8]
External Links
References