The Butcher Helmet
Manufacturer
Doomsday (DOOM)
Type
Helmet
Classification
Medium armor
Main set
Clash (armor)
Sex
Unisex
Base price
2,590 aUEC
Production state
Introduced in Alpha 3.4.0
Environment protection
Temperature
-52 / 82 °C
Pressurized
Yes
Damage resistance
Physical

+30%

Energy

+30%

Distortion

+30%

Thermal

+30%

Biochemical

+30%

Stun

+45%
The Butcher Helmet is a medium helmet manufactured by Doomsday. It is a part of the Clash armor set.[1]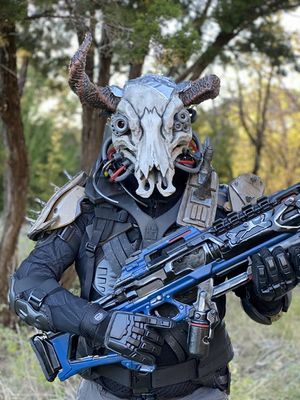 In-game description
Be the reaper with this terrifying battle helmet molded after some kind of animal. We aren't a vet, it just looked cool. All we know is that it'll withstand some serious punishment and look bad ass doing it.
Buyable at
Model
| Image | Name | Description |
| --- | --- | --- |
| | (Default) | White skull with brown horns |
Special editions
| Image | Name | Description |
| --- | --- | --- |
| | Holiday Butcher Helmet | Celebrate the season with the festive Holiday Butcher helmet. Doomsday designed this twisted bit of armor to withstand a firefight, raucous holiday party, and everything in between. The snout's custom armor plating provides protection while remaining lightweight, and the synthetic spiral horns are more durable than the real deal. The Holiday Butcher adds to Doomsday's reputation as the universe's premiere engineer of warped gear. Only accessible in 2018 Christmas event.[2] |
Armor components
Development
The Butcher Helmet is introduced in Alpha 3.4.0 as a part of the Shipjacker (Clash) armor set.[3]
References