A university is an institution of higher education and centre of research within the United Empire of Earth (UEE). While many are centred on the education-dominated Rhetor system, several other developed systems also have universities, and some planets have numerous Universities. This page also includes Service Academies, which are military institutions that grant degrees.
Universities of the Rhetor system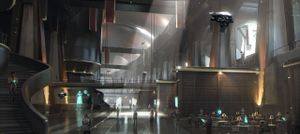 Rhetor was discovered in 2287, making it the second extrasolar system to be visited after Croshaw, and the first system known two jumps away from the Sol system. The Croshaw - Rhetor Jump Point was discovered by students from Martian Institute of Space and Technology. The school's then-president Adrianne Zemlock , a critic of the way that Croshaw had been colonised by corporate interests, ransomed the Jump Point location to the government in return for a quarter of the habitable or terraformed land being set aside for educational purposes.[1]
Today the system is synonymous with higher education, and is home to a number of prestigious institutions, including:
Universities of the Sol system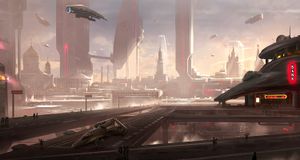 As the home system of mankind, Sol is home to numerous ancient and prestigious institutions of higher education on both Earth and Mars.
This institutions in the Sol system include:
Universities of Terra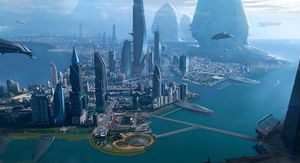 As the jewel of the Eastern Empire, Terra is home to numerous large cities and thus several Universities, including:
Universities of Jata, Cestulus (Davien II)
Universities of Saisei (Centauri III)
Other Universities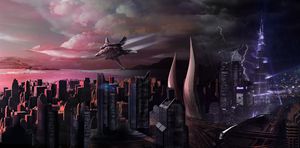 Aydo Polytechnic
Aydo Polytechnic, located on Green, is a Polytechnic University that offers degrees in engineering, applied sciences and Fine Arts.[23] One of its alumni was Marana River, founder of the Imperial Arts Foundation.[23]
University of Aten
The University of Aten, located on Serling (Horus I), is conducting a lengthy study in an attempt to isolate the differences between people who flourish in the unusual daylight conditions of the tidally-locked worlds (often those in families who have lived on the planet for generations) versus those who have trouble adjusting.[24]
University of Angeli
The University of Angeli is located on Angeli (Croshaw II). August Dunlow, founder of Crusader Industries, studied a double-major in business and political science. While at the University he became a staunch Anti-Messer activist.[25]
University of Jalan
The University of Jalan is located on the Tevarin homeworld of Jalan (Elysium IV). Nutrition researchers at Jalan developed the Hydration Efficacy Index.[26] Jovi Ingstrom, co-founder of Esperia, studied xenoarcheology at Jalan until being expelled in his sophomore year.[7]
University of Lo New Junction (ULON)
The University of Lo New Junction is located the city of New Junction, on Lo, in the Corel system. It was founded in 2859 thanks to a large donation from Shubin Interstellar.[27] Desmond Fell, the re-discoverer of the Branaugh system, obtained a dual degree in geotechnology and political discourse to help fulfill his lifelong dream of discovering a planetary system.[28]
University of Tram
The University of Tram, located in Tram on Asura (Ferron III), was attended by Basilisk founder Simone Visconti, where she studied engineering. The programme was considered notably less prestigious than that of the institution she left, at UPARQ.[29]
Service Academies
A Service Academy is an educational establishment that provide undergraduate education to commissioned officers.
The United Empire of Earth Naval Flight Academy (UNFA) is a coeducational service academy located on MacArthur (Kilian V). Established in 2632, it is one of the oldest of the UEE's service academies. It educates officers for commissioning into the UEE Navy. Most graduates of the UNFA go on to the various combat squadrons in the Navy, but others may pilot capital or support vessels.[30]
References