Subscriber flair are small in-game items that are given to Star Citizen backers who sign up for an optional subscription. They are usually used as decoration in players' spaces, personal clothing, weapons or armor pieces.[1]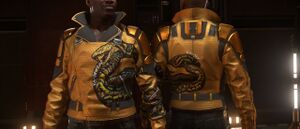 Below is a list of all items handed out to subscribers in the past. Up until December 2017 all items were given to people in both levels of their subscription, but Imperator subscribers got every item twice. After that point, Imperator level subscribers were given special editions of a certain flair item, on top of what Centurion subscribers were given.
As long as you are a subscriber, most of these items can be purchased retroactively in the Subscriber Store, and without limit in quantity. These items can also be gifted after purchase.
If an item in the list shows it was not handed out to either subscriber levels, it was obtainable exclusively through the Subscriber Store.
Utility items
Clothing
Personal weapons
Personal armor
Vehicle paints
| Pack | Item | Type | Centurion | Imperator | Store price | Released (in-lore dates) |
| --- | --- | --- | --- | --- | --- | --- |
| | 100 Series Sand Wave Livery | Vehicle paint | ✔ | ✔ | $5.00 | 2951-07 |
| | 100 Series Melrose Livery | Vehicle paint | X | ✔ | $5.00 | 2951-07 |
| | Avenger Copernicus Paint | Vehicle paint | ✔ | ✔ | $5.00 | 2951-09 |
| | Avenger Kepler Paint | Vehicle paint | X | ✔ | $5.00 | 2951-09 |
| | Avenger De Biasio Paint | Vehicle paint | X | X | $5.00 | 2951-09 |
| | | | | | | |
| Dolivine Mining Paint Pack | | | ✔ | ✔ | $30.40 | 2952-01 |
| ↳ | Prospector Dolivine Livery | Vehicle paint | | | $9.00 | |
| ↳ | Reclaimer Dolivine Livery | Vehicle paint | | | $13.00 | |
| ↳ | ROC Dolivine Livery | Vehicle paint | | | $5.00 | |
| ↳ | MOLE Dolivine Livery | Vehicle paint | | | $11.00 | |
| Aphorite Mining Paint Pack | | | X | ✔ | $30.40 | 2952-01 |
| ↳ | Prospector Aphorite Livery | Vehicle paint | | | $9.00 | |
| ↳ | Reclaimer Aphorite Livery | Vehicle paint | | | $13.00 | |
| ↳ | ROC Aphorite Livery | Vehicle paint | | | $5.00 | |
| ↳ | MOLE Aphorite Livery | Vehicle paint | | | $11.00 | |
| Hadanite Mining Paint Pack | | | X | X | $30.40 | 2952-01 |
| ↳ | Prospector Hadanite Livery | Vehicle paint | | | $9.00 | |
| ↳ | Reclaimer Hadanite Livery | Vehicle paint | | | $13.00 | |
| ↳ | ROC Hadanite Livery | Vehicle paint | | | $5.00 | |
| ↳ | MOLE Hadanite Livery | Vehicle paint | | | $11.00 | |
| | | | | | | |
| Slipstream Racing Paint Pack | | | ✔ | ✔ | $9.60 | 2953-01 |
| ↳ | Cyclone Slipstream Livery | Vehicle paint | | | $3.00 | |
| ↳ | HoverQuad Slipstream Livery | Vehicle paint | | | $3.00 | |
| ↳ | Nox Slipstream Livery | Vehicle paint | | | $3.00 | |
| ↳ | Dragonfly Slipstream Livery | Vehicle paint | | | $3.00 | |
| Overdrive Racing Paint Pack | | | X | ✔ | $9.60 | 2953-01 |
| ↳ | Cyclone Overdrive Livery | Vehicle paint | | | $3.00 | |
| ↳ | HoverQuad Overdrive Livery | Vehicle paint | | | $3.00 | |
| ↳ | Nox Overdrive Livery | Vehicle paint | | | $3.00 | |
| ↳ | Dragonfly Overdrive Livery | Vehicle paint | | | $3.00 | |
| Turbocharged Racing Paint Pack | | | X | X | $9.60 | 2953-01 |
| ↳ | Cyclone Turbocharged Livery | Vehicle paint | | | $3.00 | |
| ↳ | HoverQuad Turbocharged Livery | Vehicle paint | | | $3.00 | |
| ↳ | Nox Turbocharged Livery | Vehicle paint | | | $3.00 | |
| ↳ | Dragonfly Turbocharged Livery | Vehicle paint | | | $3.00 | |
Decorations
Limited time event rewards
Other limited time rewards
See also
References