Area18 is one of the main commercial ports for interplanetary traffic for the surrounding region of ArcCorp. Travelers can find a variety of goods from trusted names as well as local providers, if they're not overwhelmed by the sights and sounds of this landing zone. Security is taken very seriously on the surface, as ArcCorp has enlisted (notorious) private security firm BlacJac Security to maintain the peace. The Observist advises if you have problems, to head to the local UEE Advocacy office instead.[1]
Area18 features a number of common stores including CenterMass, Abernathy Interiors, Dumper's Depot, Casaba, et cetera.[1]
Significant Characters
Transit
Districts
ArcCorp Plaza
ArcCorp Plaza is the main plaza of Area18, which you first enter into when coming from Cityflight Transit. The plaza gives access to all the other zones of Area18. Prominently situated in the center of the plaza is Memphis Avery's iconic floating sculpture, this piece brilliantly embodies ArcCorp's industrial yet elegant aesthetic.[4]
The plaza also features the IO-North tower, which is prominently visible from the sky as the tallest spire in the area. IO-North tower is ArcCorp's premier center for business development, featuring 172 levels occupied by various businesses and organizations, like CenterMass, Advocacy, and many more. This building also houses the exclusive Million Mile High Club.
Also notable in ArcCorp Plaza is the Empire Health Services hospital and the Trade & Development Division's Jobwell building, where you go for all your official job opportunities.
In a back alley of the plaza sits Tecia Pacheco, a self-called "freelance time manager" for your more "private" jobs.
Zone 1
Zone 1 is a small square featuring several stores, like Casaba Outlet for clothing, and Cubby Blast for weapons and armor. This zone also houses the Adira Falls Apartments, where players can rent habitation units for simple personal living space.
Zone 2
In Zone 2 you can find Dumper's Depot, a parts store, and Astro Armada, a ship dealer. Zone 2 is situated directly behind the Adira Falls building and overlooks a large crevasse, bridged by several walkways. Shuttle buses commuting between Area18 and the Spaceport regularly fly through here.
Zone 3
Zone 3 features the G-Loc bar and other small businesses.
Riker Memorial Spaceport
Riker Memorial Spaceport is the main hub designed for leaving and entering Area 18. It was named after noted citizen "Seanriker", a member of a German fan community who had passed away in 2018.[5] The building has a very unmistakable y-shape when entering the area from orbit. At the spaceport you can call your ships through ASOP terminals to have it delivered to many different sizes of landing pads and hangars. Between the spaceport and Area18 commutes several shuttle buses with Cityflight Transit, bringing players from the spaceport straight into the heart of the landing zone. Riker Memorial Spaceport also provides amazing views for people taking a quick trip to the city.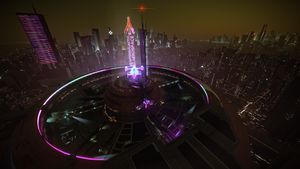 Bevic Convention Center
The Bevic Convention Center is a convention center located next to Area18, accessible via the Cityflight public transit system. It is a special convention center used for large scale events, like The 2949 Intergalactic Aerospace Expo, and the 2950 Invictus Launch Week.
Trading
Development
Area18 was added in patch 2.0 as a separate menu option and it was the only place where players could buy clothing and wear it. After 3.0 the menu option was removed, and stores were moved to Port Olisar instead. Area 18 has returned to the Persistent Universe as of patch 3.5.
Gallery
References