Intergalactic Aerospace Expo 2950
Previous year
Intergalactic Aerospace Expo 2951
Intergalactic Aerospace Expo 2952
Next year
The Intergalactic Aerospace Expo 2951 was a 12-day ship exposition event held at Tobin Expo Center in New Babbage. The expo is an annual event that brings ships of all different manufacturers together to be displayed at several expo halls. As in previous years, the event was coupled with a free-fly event, allowing players without a Game Package to play the game for free, and also offering free rentals of ships on display to all players.
Ship showdown
The event succeeds the annual Ship Showdown. During the showdown, backers were able to vote on their favorite ship in each round during the month of September. The winning ships of this year were the MPUV-1C, followed by the C2 Hercules, 600i Explorer, Mercury Star Runner. These ships were highlighted at the expo on the 10th day.[1]
Stock limited ship sale
Almost every ship was on sale on the Pledge Store at some point during the event. Specific stock limited ships (usually large or capital size ships) were for sale during specific timeframes covering all the time zones:[2]
Wave 1: 1600 UTC
Wave 2: 0000 UTC
Wave 3: 0800 UTC
IAE Day 2 - November 20: Constellation Phoenix
IAE Day 3 - November 21: Aegis Idris-P, Aegis Javelin
IAE Day 6 - November 24: Origin 890 Jump
IAE Day 7 - November 25: Consolidated Outland Pioneer
IAE Day 8 - November 26: Drake Kraken, Drake Kraken Privateer
IAE Day 9 - November 27: MISC Hull E
Commemorative items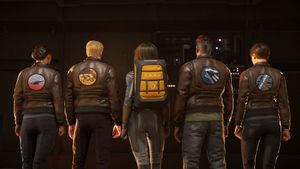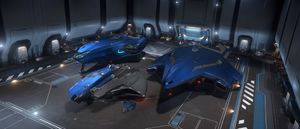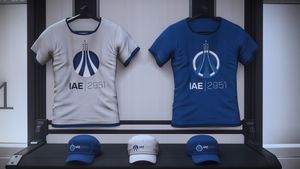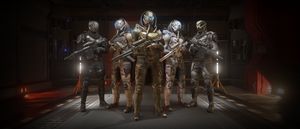 Owners of one (or more) of the ships that made it to the Ship Showdown semi-finals received a free limited-edition ship livery and leather jacket. Also, all backers received an Argo themed backpack.[3]
Gear
Paints
Spectrum badges
Special Badges were handed out for use on a player's Spectrum profile, obtainable by logging in to the game at each specific day of the event. See Showcase schedule. Badges were attributed to accounts at the end of the event.[2]
Showcase schedule
Starting on November 19, each day a different ship manufacturer took over one of the expo halls for 48 hours. Switches occurred at 1600 UTC daily. Each manufacturer displayed their ships at the expo halls at the New Babbage Tobin Expo Center on the planet microTech for overlapping 48-hour blocks.[3]
| Date | Manufacturers | Vehicles | Badge |
| --- | --- | --- | --- |
| Day 1 / November 19 | Anvil Aerospace | Arrow, Ballista, C8X Pisces, Carrack, F7C Hornet, F7C Hornet Wildfire, F7C-M Super Hornet, F7C-R Hornet Tracker, F7C-S Hornet Ghost, Gladiator, Hawk, Hurricane, Terrapin, Valkyrie | |
| Day 2 / November 20 | Roberts Space Industries | Aurora CL, Aurora ES, Aurora LN, Aurora LX, Aurora MR, Constellation Andromeda, Constellation Aquila, Constellation Phoenix, Constellation Taurus, Mantis, Ursa | |
| Day 3 / November 21 | Aegis Dynamics | Avenger Stalker, Avenger Titan, Avenger Titan Renegade, Avenger Warlock, Eclipse, Gladius, Gladius Valiant, Hammerhead, Reclaimer, Redeemer, Retaliator Bomber, Sabre, Sabre Comet, Vanguard Harbinger, Vanguard Hoplite, Vanguard Sentinel, Vanguard Warden | |
| Day 4 / November 22 | Aopoa, Banu Souli, Esperia, Gatac Manufacture | Khartu-al, Nox, Defender, Blade, Glaive, Prowler, Talon, Talon Shrike | |
| Day 5 / November 23 | Crusader Industries, Tumbril Land Systems | Ares Inferno, Ares Ion, A2 Hercules, C2 Hercules, M2 Hercules, Mercury Star Runner, Cyclone, Cyclone AA, Cyclone MT, Cyclone RC, Cyclone RN, Cyclone TR, Nova | |
| Day 6 / November 24 | Origin Jumpworks | 85x, 100i, 125a, 135c, 300i, 315p, 325a, 350r, 400i, 600i Touring, 890 Jump, M50 | |
| Day 7 / November 25 | Argo Astronautics, Greycat Industrial, Consolidated Outland, Kruger Intergalactic | MOLE, MPUV-1C, MPUV-1P, Mustang Alpha, Mustang Beta, Mustang Gamma, Mustang Delta, Nomad, ROC, ROC-DS, PTV, P-52 Merlin, P-72 Archimedes | |
| Day 8 / November 26 | Drake Interplanetary | Buccaneer, Caterpillar, Cutlass Black, Cutlass Blue, Cutlass Red, Dragonfly, Herald | |
| Day 9 / November 27 | Musashi Industrial and Starflight Concern | Freelancer, Freelancer DUR, Freelancer MAX, Freelancer MIS, Prospector, Razor, Razor EX, Razor LX, Reliant Kore, Reliant Mako, Reliant Sen, Reliant Tana, Starfarer, Starfarer Gemini | |
| Day 10 / November 28 | Best in Show, Weapons and Armor showcase | MPUV, 600i, C2 Hercules, Mercury Star Runner | |
| November 29 - December 1 | Finale | All ships that were previously available during the expo | |
Whitley's Guide
In the 2951 edition of Whitley's Guide, CIG offered not only a look at the show segments themselves, but also took a glimpse behind the scenes at Jax McCleary's relationship with Jimmy as they struggled with the show's ratings decline.
Links
Gallery
References