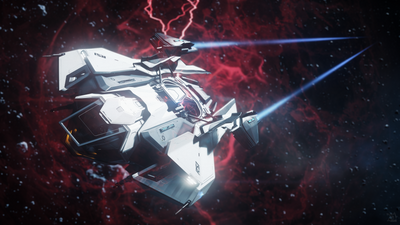 Cargo
0 SCU
0 KµSCU <br />0 µSCU <br />
Stowage
650 KµSCU
0.65 SCU <br />650,000 µSCU <br />
Standalone
$ 150.00
€ 151.50 <br />£ 127.50 <br />
Availability
Always available
Persistent Universe data has moved
Length
30 m
0.03 km <br />3,000 cm <br />
Width
17 m
0.017 km <br />1,700 cm <br />
Height
7.5 m
0.0075 km <br />750 cm <br />
Mass
228,123 kg
228.123 t <br />
Max speed
1,320 m/s
4,752 km/h <br />
Hydrogen capacity
632,250 L
632.25 SCU <br />
The RSI Mantis is a single-seat interdiction ship, capable of pulling targets out of Quantum travel using "Quantum Enforcement". Lightly armed and armored, the Mantis is designed to work in tandem with more heavily-armed law enforcement or pirates to confront the captured ships.[1]
Features
Quantum Enforcement Device: The Mantis features a specialized Quantum Enforcement Device (QED) designed to stall Quantum travel, appearing as three rings that are housed in the rear of the ship. Quantum enforcement can be engaged using either a "Quantum Snare" or "Quantum Dampening". Though not initially, QED's will eventually be equipped through the utility item ports of a ship, and available for ships other than the Mantis as well. Due to the nature of this device, using a QED will require certain jurisdictions. Doing so without them will be illegal.[2]

Quantum Snare: The Quantum snare is the primary utilization of the QED, intended for large-radius events (approx. 10–20 km),[1] and will create a "bubble" around the ship. Any ship that is within the bubble will be knocked out of Quantum travel, and ships passing through will be pulled out of quantum travel as well. Engaging the Quantum Snare requires significant charge-up time, and maintaining the snare requires a lot of power while generating large amounts of heat.
Quantum Dampening: Quantum Dampening is the secondary usage of the QED, preventing the activation of quantum drives within a short range while active (approx. 2000m).[1] In contrast to the Snare, Dampening can be activated instantly, trapping lone unwary ships as long as they are within its radius.

Quantum Markers: Along with the Quantum Enforcement Device, the Mantis can utilize Quantum Markers to track potential targets.
Other Features: The Mantis will be equipped for long quantum-travel-related activities, and will therefore also contain a bed and toilet.[2]
Specifications
Model
Ship profile
Paints
Image
Paint Name
Description
Price

(aUEC)

Price

($)

"Polar"
White colour with grey camo pattern and dark grey accents.
[not available]
9.00 [3]

"Stormbringer"
Blue and dark grey colouring with very light grey accents.
[not available]
6.00 [4]
Universe availability
Gallery
See also
References