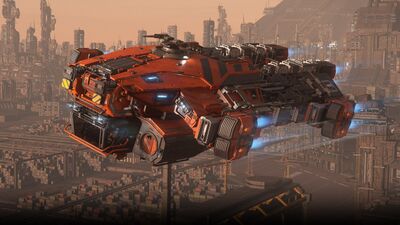 Cargo
96 SCU
9,600 KµSCU <br />96,000,000 µSCU <br />
Stowage
96,000 KµSCU
96 SCU <br />96,000,000 µSCU <br />
Standalone
$ 125.00
€ 126.25 <br />£ 106.25 <br />
Warbond
$ 110.00
€ 111.10 <br />£ 93.50 <br />
Availability
Time-limited sales
Persistent Universe data has moved
Length
39.5 m
0.0395 km <br />3,950 cm <br />
Width
23 m
0.023 km <br />2,300 cm <br />
Height
12 m
0.012 km <br />1,200 cm <br />
Mass
1,169,686 kg
1,169.686 t <br />
Hydrogen capacity
2,284,275 L
2,284.275 SCU <br />
Quantum capacity
27,585 L
27.585 SCU <br />
Announced
25 November 2021
Concept sale
25 November 2021
The RAFT (Reinforced Advanced Freight Transport[1]) is a small cargo hauler manufactured by Argo Astronautics. Designed to carry three standardized 32-SCU containers, the RAFT allows for rapid loading and unloading and comes equipped with a tough hull, tougher shields, and a comprehensive countermeasures suite to keep your cargo safe.[2]
Features
External cargo: 3 external standardized removable cargo containers facilitate rapid cargo transfer, with each container holding 32 SCU.
Control Cab: The crew can monitor cargo transfer and operate the rear-mounted tractor beam from this station.
Docking port: Ship-to-ship or ship-to-station access is performed via a secure front docking port and airlock.
Weaponry: Main armament consists of a remotely operated turret equipped with a pair of Size 3 Repeaters. Optionally, a pair of forward-facing hardpoints may also be equipped with Size 1 weapons.
Habitation: The two-person crew is provided with generous facilities including a kitchen, dining table, bathroom, and bunk beds that double as escape pods.[2]
Equipment Storage: The RAFT features an internal storage of 96,000K μSCU and two 400K μSCU storage lockers in the habitation area, as well as dedicated gun racks and EVA suit lockers.
Specifications
Turret
Weapons
Weapon rack
Model
Ship profile
Paints
| Image | Paint Name | Description | Price (aUEC) | Price ($) |
| --- | --- | --- | --- | --- |
| | "Anchor" | Pale grey-green colour with white and grey accents. | [not available] | 4.50 [3] |
| | "Hazard" | Dark grey colour with yellow accents. | [not available] | 4.50 [4] |
| | "Polar" | White colour with grey accents. | [not available] | 7.00 [5] |
Universe availability
Gallery
Trivia
RAFTRON: Defender of the Persistent Universe was a very short segment that was shown at the very end of a Inside Star Citizen episode. It featured a giant super robot or mecha formed by combining five RAFTs of different colors. It wields a giant red sword and has a proportionally-sized Pico-ball for a head.[6][7]
References