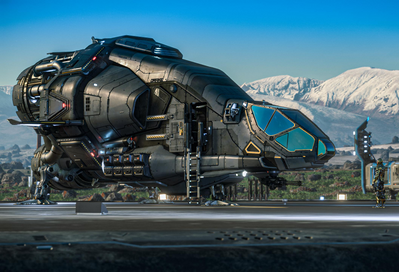 Cargo
0 SCU
0 KµSCU <br />0 µSCU <br />
Stowage
650 KµSCU
0.65 SCU <br />650,000 µSCU <br />
Standalone
$ 85.00
€ 85.85 <br />£ 72.25 <br />
Availability
Time-limited sales
Persistent Universe data has moved
Length
24.75 m
0.0248 km <br />2,475 cm <br />
Width
12.5 m
0.0125 km <br />1,250 cm <br />
Height
9 m
0.009 km <br />900 cm <br />
Max speed
1,361 m/s
4,899.6 km/h <br />
The Drake Herald is a small, armored ship designed to safely get information from Point A to Point B. Featuring a powerful central engine (for high-speed transit and generating the power needed for effective data encryption/containment), advanced encryption software and an armored computer core, the Herald is unique among personal spacecraft in that it is designed to be easily 'cleaned' when in danger of capture.[1][2] Notably, data running and hacking are not yet implemented, so the ship does not yet have all intended functionality.
Features
Specifications
Ordnance
Model
Ship profile
Paints
Image
Paint Name
Description
Price (aUEC)
Price ($)

"Ghoulish Green"
Metallic green in colour with dark grey accents.

Limited sale. Only available during the annual Day of the Vara event. [3]

[not available]
7.00

"Polar"
White in colour with grey and light grey accents.
[not available]
7.00 [4]

"Stormbringer"
Blue in colour with dark grey and white accents.
[not available]
4.50 [5]
Universe availability
Gallery
Development
The Herald was the 35,000,000 Dollar Stretch Goal of Star Citizen's Crowfunding campaign. The goal was reached on 2013-12-22. The Herald is designed by Josh Coons and was featured in "Ship Shape" of Around the Verse Episode 2.29 and Episode 3.7.[6][7]
Blue and Red "Variant": CIG showed a blue and red colored variant of the ship in the Pre-Sale Livestream 2016. According to Jared Huckaby, these skins were only made for presentation.
References