Quick facts:
Avenger Stalker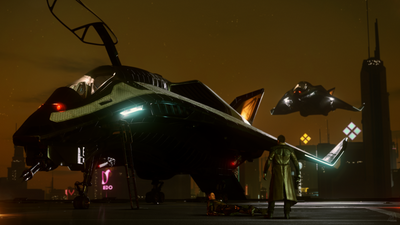 Cargo
0 SCU
0 KµSCU <br />0 µSCU <br />
Stowage
650 KµSCU
0.65 SCU <br />650,000 µSCU <br />
Standalone
$ 60.00
€ 60.60 <br />£ 51.00 <br />
Avaliblity
Always available
Persistent Universe data has moved
Length
22.5 m
0.0225 km <br />2,250 cm <br />
Width
16.5 m
0.0165 km <br />1,650 cm <br />
Height
5.5 m
0.0055 km <br />550 cm <br />
Max speed
1,307 m/s
4,705.2 km/h <br />
The Aegis Avenger Stalker is a civilian light fighter that is popular among bounty hunters. It was initially the frontline carrier ship for the UEE military, then it had a long and storied career as the standard patrol craft of the UEE Advocacy. Utilizing its cargo hold for prisoner transport, the Avenger features a sturdy, reliable hull and the capacity for larger-than-expected engine mounts.[1]
Specifications
Model
All the variants share the same external model.
Ship profile
Series variants
| Image | Name | Description |
| --- | --- | --- |
| | Avenger Titan | Designed for light mercantile, it has an internal cargo hold with capacity of up to 8 SCU. |
| | Avenger Trainer | A duel seat cockpit variant used for training pilots. |
| | Avenger Warlock | Focused on Interdiction. It sacrifices all of its cargo space for an EMP generator. |
Paints
Universe availability
Pledge price history
| Date | Pledge cost (USD) | Insurance | Availability | Sale |
| --- | --- | --- | --- | --- |
| 2020-05-26 | 60 | 120 months | Time-limited | Invictus 2950 [2] |
Lore
The Avenger began its life serving dutifully as the premiere front-line carrier plane of the late 28th century. Avengers racked up several impressive space-to-space victories in that era but were ultimately supplanted by more maneuverable designs like the Hornet. With space combat focusing more on skilled maneuvering than pure weapons storage, the Avenger fell out of active duty with the military and was repurposed as the standard ship for Advocacy and local law enforcement. Today, the military will still use Avengers as trainers; the two-seat variant is a forgiving first spacecraft for new pilots.
The current civilian model Avenger is marketed towards bounty hunters, with the second seat removed for direct access to the hold. Munitions storage has also been replaced with traditional cargo hooks, and the standard exterior flight line ladder entry system has been replaced with an internalized solution that allows the pilot to maintain control of access (and egress) more easily.[3]
Gallery
Development
See also
References