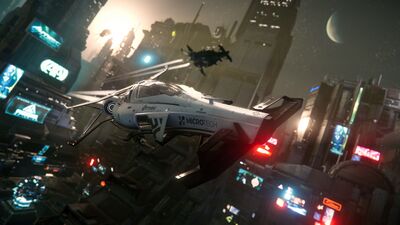 Cargo
0 SCU
0 KµSCU <br />0 µSCU <br />
Stowage
150 KµSCU
0.15 SCU <br />150,000 µSCU <br />
Standalone
$ 150.00
€ 151.50 <br />£ 127.50 <br />
Warbond
$ 135.00
€ 136.35 <br />£ 114.75 <br />
Avaliblity
Time-limited sales
Persistent Universe data has moved
Length
11.5 m
0.0115 km <br />1,150 cm <br />
Width
8.2 m
0.0082 km <br />820 cm <br />
Height
2.7 m
0.0027 km <br />270 cm <br />
Max speed
1,400 m/s
5,040 km/h <br />
The Mirai Razor LX is a variant of the Razor racer, features an overclocked engine, reduced maneuverability and armaments in exchange of straight-line speed.[1]
Features
Speed: While the Razor was designed to be a fast racer, competing in competitions like the Murray Cup, MISC thought it would good idea to push the speed limit even further. By overclocking the engines, reducing its maneuverability and by removing the missile racks, the LX give speed freaks that little bit extra boost that borderlines on dangerous.
Weapons: While the Razor is a racer, it doesn't leave you defenseless thanks to its pair of Size 2 gun hard-points.
Specifications
Weapons
Personal storage
Model
Ship profile
Series variants
| Image | Name | Description |
| --- | --- | --- |
| | Razor | Designed as a racer, featuring an advanced composite spaceframe and a cutting edge fuel collections system. |
| | Razor EX | The Razor EX is the stealth variant of Razor that is outfitted with signature-reducing materials. It was originally a specialty build for the UEE Advocacy for use in surveillance and extraction operations, a variation of the model was later released for the public by MISC. |
Paints
Universe availability
Gallery
Development
References