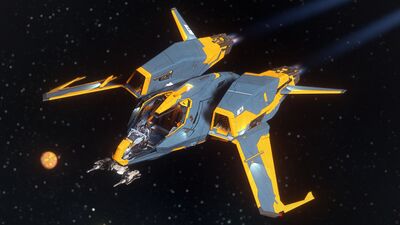 Cargo
0 SCU
0 KµSCU <br />0 µSCU <br />
Stowage
650 KµSCU
0.65 SCU <br />650,000 µSCU <br />
Standalone
$ 40.00
€ 40.40 <br />£ 34.00 <br />
Availability
Always available
Persistent Universe data has moved
Length
21.5 m
0.0215 km <br />2,150 cm <br />
Width
18 m
0.018 km <br />1,800 cm <br />
Height
9 m
0.009 km <br />900 cm <br />
Max speed
1,216 m/s
4,377.6 km/h <br />
Hydrogen capacity
1,045,000 L
1,045 SCU <br />
The Consolidated Outland Mustang Beta is a variant of the Mustang civilian spacecraft. Classified as a touring & exploration ship, the Mustang Beta has extended range compared to the Mustang Alpha and features a series of updates to appeal to cost-conscious explorers. The Beta ships with the hardened Tarsus Leaper jump engine as well as a comfortably-appointed rear cabin.[1]
Features
Range: In accordance with its role as an affordable entry-level pathfinder, the Mustang Beta features increased range for long duration flights.
Habitation: The Beta features a surprisingly generous internal living space including a kitchen, bed, and a toilet.
Weapons: With a pair of Size 2 guns and a pair of weapon hard points that can mount additional Size 1 guns if desired, the Beta can engage hostile targets with confidence.
Specifications
Weapons
Model
Ship profile
Series variants
Paints
Universe availability
Gallery
Development
References