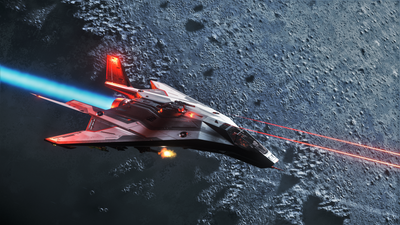 Cargo
0 SCU
0 KµSCU <br />0 µSCU <br />
Stowage
250 KµSCU
0.25 SCU <br />250,000 µSCU <br />
Standalone
$ 75.00
€ 75.75 <br />£ 63.75 <br />
Warbond
$ 65.00
€ 65.65 <br />£ 55.25 <br />
Avaliblity
Always available
Persistent Universe data has moved
Length
16 m
0.016 km <br />1,600 cm <br />
Width
12 m
0.012 km <br />1,200 cm <br />
Height
4 m
0.004 km <br />400 cm <br />
Max speed
1,235 m/s
4,446 km/h <br />
Announced
23 November 2018
Concept sale
23 November 2018
The Anvil Arrow is an agile, light fighter that is prized for its velocity and dexterity. The Arrow boasts advanced thruster tech, a generous weapons package, and an ultra-aerodynamic frame to outmaneuver and outwit its opponents.[1]
Features
Agility: Thanks to its aerodynamic frame and its advanced maneuvering thrusters, the Arrow is among the quickest and nimblest light fighters on the civilian market.
Weapons: With its agility as well its pair of Size 3 wing mounted gun hard-points, a pilot controlled top mounted turret that holds a pair of Size 1 guns and racks that can carry six Size 2 missiles, the Arrow can be formidable fighting vehicle.
Folding Wings: The ships wings can fold in a configuration that can reduce its profile while landed and for storage.
Specifications
Radar
Scanner
Cooler
Power plant
Shield generator
Fuel intake
Fuel tank
Quantum drive
Quantum fuel tank
Main thruster
Main thruster
4.117 MN
4,117.333 kN <br />925,613.514 lbf <br />
Maneuvering thruster
Maneuvering thruster
0.813 MN
812.857 kN <br />182,737.614 lbf <br />
Maneuvering thruster
0.363 MN
363.26 kN <br />81,664.185 lbf <br />
Ordnance
Personal storage
Personal storage
250K µSCU
Model
Ship profile
Paints
| Image | Paint Name | Description | Price (aUEC) | Price ($) |
| --- | --- | --- | --- | --- |
| | "Foundation Festival" | Teal and metallic grey in colour with white accents and a Foundation Festival logo. Limited edition. Only available as a reward to backers who took part in the annual Foundation Festival event. [2] | [not available] | (Reward) |
| | "Light Green & Grey" | A multi-tone green colour scheme featuring grey and red accents. | 48,000 | 3.00 [3] |
| | "Lovestruck" | Metallic Pink in colour with dark grey accents. Limited sale. Only available during the annual Coramor event. [4] | [not available] | 5.00 |
| | "Metallic Grey" | A sleek grey color scheme featuring green accents | 49,500 | 3.00 [5] |
| | "Tan & Green" | A multi-tone tan & green color scheme featuring grey and amber accents. | 48,000 | 3.00 [6] |
| | "Twilight" | A fragmented grey camo color scheme featuring green accents. | 48,500 | 5.00 [7] |
Universe availability
| Shop | Location | 1 day rental price | 3 days rental price | 7 days rental price | 30 days rental price | Game build |
| --- | --- | --- | --- | --- | --- | --- |
| Traveler Rentals | Area18 | 19,446 aUEC | 51,046 aUEC | 102,092 aUEC | 364,613 aUEC | 3.19.0-LIVE.8478820 |
| Vantage Rentals | Lorville | 19,446 aUEC | 51,046 aUEC | 102,092 aUEC | 364,613 aUEC | 3.19.0-LIVE.8478820 |
| Traveler Rentals | Orison | 19,446 aUEC | 51,046 aUEC | 102,092 aUEC | 364,613 aUEC | 3.19.0-LIVE.8478820 |
Gallery
Development
See also
References