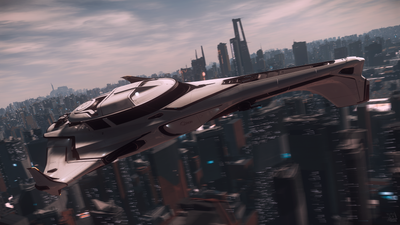 Cargo
42 SCU
4,200 KµSCU <br />42,000,000 µSCU <br />
Stowage
42,000 KµSCU
42 SCU <br />42,000,000 µSCU <br />
Standalone
$ 250.00
€ 252.50 <br />£ 212.50 <br />
Warbond
$ 220.00
€ 222.20 <br />£ 187.00 <br />
Availability
Time-limited sales
Persistent Universe data has moved
Length
56 m
0.056 km <br />5,600 cm <br />
Width
32 m
0.032 km <br />3,200 cm <br />
Height
12.5 m
0.0125 km <br />1,250 cm <br />
Mass
430,057 kg
430.057 t <br />
Max speed
1,250 m/s
4,500 km/h <br />
Hydrogen capacity
5,339,744 L
5,339.744 SCU <br />
Concept sale
9 October 2021
The 400i is a high-performance luxury pathfinder manufactured by Origin Jumpworks. With greater range compared to other ships in its class, advanced exploration equipment, and substantial defensive capabilities, the 400i is a ship that can explore the most unforgiving sectors of the 'verse while retaining the comfort and elegance that Origin is well known for.
Features
Luxury Crew Accommodation: The beautifully crafted interior features amenities far surpassing any other ship in its class, ensuring absolute crew comfort even in the most remote regions of space.
Defense: The 400i features a size 3 shield generator, two S3 Panther Repeaters mounted forward, and two rear-mounted remote turrets that each mount two more S3 Panther Repeaters. It also boasts generous ordnance capacity with 16 size 2 and 16 size 1 missiles.
X1 Bike Bay: The front nose section contains a vehicle bay designed to hold the Origin X1, but can also hold vehicles such as the Nox, which allows you to explore locally. Access to the bike bay is via a drop down platform.
UEE-Standard Docking Collar: Located on the port side of the ship, this gives you the ability to dock to stations or other ships without exposure to the surrounding environment.
Airlock room: Thanks to this airlock, crew can access hostile environments either via the stepped platform or the side docking collar and not expose the rest of the ship.
Easy cargo access: Effortless access to the ship's 42 SCU of internal storage via a drop down platform.
Specifications
Weapon rack
Model
Ship profile
Exterior
Interior
| Technical deck | Habitation deck |
| --- | --- |
| | |
Paints
| Image | Paint Name | Description | Price (aUEC) | Price ($) |
| --- | --- | --- | --- | --- |
| | "Afterglow" | Dark grey colour with orange and grey accents. | [not available] | 7.50 [1] |
| | "Calacatta" | White colour with dark grey and grey accents. | [not available] | 7.50 [2] |
| | "Fortuna" | Metallic dark green colour with grey/light grey accents. Limited sale. Only available during the annual Stella Fortuna celebrations. [3] | [not available] | 11.00 |
| | "Meridian" | Metallic silver colour with grey accents. Limited edition. (Was only purchasable from the concept launch to when 3.15 went live. It was also included as part of the 400i concept sale.) | [not available] | 11.00 |
| | "Penumbra" | Dark grey colour with gold and grey accents. Limited edition. (Exclusive only to Concierge members and only during the 400i concept sale period.) | [not available] | 11.00 |
| | "Polar" | White and grey colour with near black accents. | [not available] | 11.00 [4] |
| | "Stormbringer" | Dark grey and electric blue colour with white accents. | [not available] | 7.50 [5] |
| | "Stratus" | White colour with yellow, grey and dark grey accents. | [not available] | 7.50 [6] |
Universe availability
Gallery
Development
In 2020, prior to 400i's introduction, the ship assets for the 400i were already in the game files, but not in the game itself. This meant that anyone could search the game files and extract the models details as well as the ships information/stats. Soon after, the assets were posted on Reddit without Cloud Imperium's consent.[7] [8]
On April Fools' Day 2021, Cloud Imperium teased the ship by introducing the invisible ship Origin 404, when the community was expecting the 400i reveal.[9][10]
The 400i was officially revealed at CitizenCon 2951 on October 9, 2021 [11] and was released in Alpha 3.15.0. It was made available for in-game purchase with aUEC in Alpha 3.17.
The ship concept is designed by Long Ouyang (Freelance Concept Artist) with collaboration from Paul Jones.[12]
See also
References