Quick facts:
Avenger Titan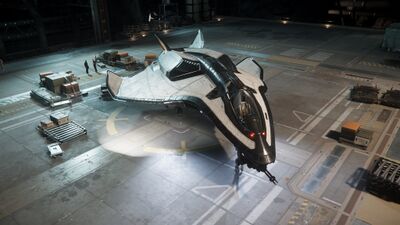 Cargo
8 SCU
800 KµSCU <br />8,000,000 µSCU <br />
Stowage
8,000 KµSCU
8 SCU <br />8,000,000 µSCU <br />
Standalone
$ 60.00
€ 60.60 <br />£ 51.00 <br />
(

$ 50.00

€ 50.50 <br />£ 42.50 <br />

)
Availability
Always available
Persistent Universe data has moved
Length
20 m
0.02 km <br />2,000 cm <br />
Width
15 m
0.015 km <br />1,500 cm <br />
Height
6.5 m
0.0065 km <br />650 cm <br />
Max speed
1,113 m/s
4,006.8 km/h <br />
The Aegis Avenger Titan is the base variant of the Avenger. With the extra cargo space and the Avenger's tried and true combat abilities, the Titan is a light cargo hauler that's more than capable of handling itself in a fight.[1] The Avenger Titan's loadout is nearly identical to the Stalker, with only the wingtip Suckerpunch cannons being replaced.
Features
Cargo: This base variant of the Avenger has the capability to carry up to 8 SCU's of cargo with its hold as well as 8,000K μSCU of internal stowage.
Rest Area: To help you on those longer cargo runs, the ship has a small rest area which contains a bed.
Easy Access Components: The ship components can be easily accessed from within the vehicle, allowing you to maintain or repair without the need to go outside the ship.
Dual Access: If the cargo hold is full to the brim, you can still access the rest of the ship thanks to the ladder installed at the front beside the cockpit.
Weapons: The Avenger can hit back when required thanks to its front Size 4 gun hard-point which by default holds its infamous Mantis GT-220 ballistic gatling. The ship also has a pair of Size 2 guns under its wings as well as racks that hold up to four Size 2 missiles.
Specifications
Ordnance
Model
Ship profile
Special editions
Avenger Titan "Renegade"
| | |
| --- | --- |
| | Part of the Masters of Flight series, the 'Renegade' pays tribute to famed pilot Danny Solomon. It comes equipped with a specialized dog-fighting focused load-out and a custom special edition livery.[2] |
Series variants
| Image | Name | Description |
| --- | --- | --- |
| | Avenger Stalker | With a focus on bounty hunting, it includes six holding cells in the cargo hold. |
| | Avenger Warlock | Focused on Interdiction. It sacrifices all of its cargo space for an EMP generator. |
| | Avenger Trainer | A duel seat cockpit variant used for training pilots. |
Paints
The following paints (skins) can be used on all variants of the Avenger.
Image
Paint Name
Description
Price (aUEC)
Price ($)

"Copernicus"
Blue & light blue colour with dark grey & dark blue accents and ICC logos.

Only available on the subscribers store. [3]

[not available]
5.00

"De Biasio"
Grey & orange colour with dark grey & white accents and ICC logos.

Only available on the subscribers store. [4]

[not available]
5.00

"Deck the Hull"
Pale green colouring with red and dark grey accents.

Limited edition. Reward to backers who took park in the Luminalia 2952 event. [5]

[not available]
(Reward)

"IceBreak"
White in colour with metallic blue and dark grey accents.

Limited edition. Reward to backers who took park in the Luminalia 2952 event. [5]

[not available]
(Reward)

"Invictus Blue & Gold"
Limited blue colour with dark grey & gold accents and Invictus logos.

Limited sale. Only available only during the annual Invictus event.

[not available]
5.00

"Ironweave"
Grey in colour with silver and dark grey accents.
[not available]
3.00 [6]

"Kepler"
Dark blue colour with dark grey & orange accents and ICC logos.

Only available on the subscribers store. [7]

[not available]
5.00

"Olive Green"
Olive green colour with dark grey accents and Aegis logos.
45,000
3.00 [8]

"Shroud"
Three tone sandy safari stripe camo with olive accents.
[not available]
5.00 [9]

"Solar Winds"
Metallic silver in colour with dark red accents and red tinted canopy.

Limited sale. Only available during the annual Pirate Week event. [10]

[not available]
5.00

"Splinter"
Three tone green camo scheme with dark grey accents and Aegis logos.
46,500
5.00 [11]
Universe availability
| Shop | Location | 1 day rental price | 3 days rental price | 7 days rental price | 30 days rental price | Game build |
| --- | --- | --- | --- | --- | --- | --- |
| Traveler Rentals | Area18 | 15,712 aUEC | 41,244 aUEC | 82,488 aUEC | 294,600 aUEC | 3.19.1-LIVE.8526421 |
| Traveler Rentals | Baijini Point | 15,712 aUEC | 41,244 aUEC | 82,488 aUEC | 294,600 aUEC | 3.19.1-LIVE.8526421 |
| Traveler Rentals | Everus Harbor | 15,712 aUEC | 41,244 aUEC | 82,488 aUEC | 294,600 aUEC | 3.19.1-LIVE.8526421 |
| Vantage Rentals | Lorville | 15,712 aUEC | 41,244 aUEC | 82,488 aUEC | 294,600 aUEC | 3.19.1-LIVE.8526421 |
| Traveler Rentals | Orison | 15,712 aUEC | 41,244 aUEC | 82,488 aUEC | 294,600 aUEC | 3.19.1-LIVE.8526421 |
| Traveler Rentals | Port Tressler | 15,712 aUEC | 41,244 aUEC | 82,488 aUEC | 294,600 aUEC | 3.19.1-LIVE.8526421 |
Pledge price history
| Name | Date | Pledge cost (USD) | Insurance | Availability | Sale |
| --- | --- | --- | --- | --- | --- |
| Titan | 2020-05-26 | 50 | 120 months | Time-limited | Invictus 2950 [12] |
| "Renegade" | 2020-05-26 | 75 | 120 months | Time-limited | Invictus 2950 [12] |
Gallery
Development
See also
References