Intergalactic Aerospace Expo 2953
The Intergalactic Aerospace Expo 2953 is a 14-day ship exposition event held at Tobin Expo Center in New Babbage. The expo is an annual event that brings ships of all different manufacturers together to be displayed at several expo halls. As in previous years, the event was coupled with a free-fly event, allowing players without a Game Package to play the game for free, and also offering free rentals of ships that are on display to all players. The event will traditionally also feature several new vehicle announcements.
Throughout the event, one or several manufacturers were featured over the days. Ships and vehicles from those manufacturers were then also available in the Pledge Store, giving players the opportunity to obtain vehicles that were otherwise not available throughout the rest of the year. This event is usually the largest income source from pledges in a year, and it gives funding for the game a major boost.
Ship showdown
The event succeeds the annual Ship Showdown. During the showdown, backers were able to vote on their favorite ship in each round during the month of September. The winning ships of this year were the Corsair, followed by the Vulture, Redeemer, 600i Explorer. These ships will be highlighted at the expo on the 10th day.[1]
Commemorative items
Owners of the ships that made it to the Ship Showdown semi-finals received a free limited-edition ship livery and manufacturer poster.[2]
Paints
Posters
Gear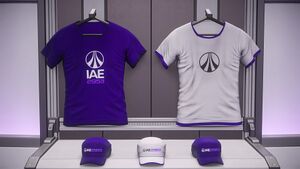 There is also general gear available at the event location. Along with the below shirts and hats, an assortment of manufacturer specific shirts and hats are also available.
Showcase schedule
Starting on November 17, each day one or more ship manufacturers will be featured in the expo halls for 48 hours. Switches occur at 1600 UTC daily. Each showfloor at the Tobin Expo Center is present for overlapping 48-hour blocks.
| Date | Manufacturers | Vehicles | Hall |
| --- | --- | --- | --- |
| Day 1 / November 17 | Gatac Manufacture, Aopoa, Banu Souli, Esperia | Syulen, Khartu-al, Nox, Defender, Blade, Glaive, Prowler, Talon, Talon Shrike | Apex |
| Day 2 / November 18 | Aegis Dynamics | Avenger Stalker, Avenger Titan, Avenger Titan Renegade, Avenger Warlock, Eclipse, Gladius, Gladius Valiant, Hammerhead, Reclaimer, Redeemer, Retaliator Bomber, Sabre, Sabre Comet, Vanguard Harbinger, Vanguard Hoplite, Vanguard Sentinel, Vanguard Warden | Zenith |
| Day 3 / November 19 | Crusader Industries, Tumbril | A1 Spirit, C1 Spirit, Ares Inferno, Ares Ion, A2 Hercules, C2 Hercules, M2 Hercules, Mercury Star Runner, Storm, Storm AA Cyclone, Cyclone AA, Cyclone MT, Cyclone RC, Cyclone RN, Cyclone TR, Nova | Apex |
| Day 4 / November 20 | Origin Jumpworks | 85x, 100i, 125a, 135c, 300i, 315p, 325a, 350r, 400i, 600i Touring, 600i Explorer, 890 Jump, M50 | Zenith |
| Day 5 / November 21 | Drake Interplanetary | Buccaneer, Caterpillar, Corsair, Cutlass Black, Cutlass Blue, Cutlass Red, Cutlass Steel, Cutter, Cutter Scout, Dragonfly Black, Herald, Mule | Apex |
| Day 6 / November 22 | Argo Astronautics, Greycat Industrial, Kruger Intergalactic, Consolidated Outland | SRV, MOLE, RAFT, MPUV Cargo, MPUV Personnel, HoverQuad, Mustang Alpha, Mustang Beta, Mustang Gamma, Mustang Delta, Nomad, ROC, ROC-DS, STV, PTV, P-52 Merlin, P-72 Archimedes | Zenith |
| Day 7 / November 23 | Anvil Aerospace | Arrow, Ballista, C8X Pisces Expedition, C8R Pisces Rescue, Carrack, Centurion, F7C Hornet, F7C Hornet Wildfire, F7C-M Super Hornet, F7C-R Hornet Tracker, F7C-S Hornet Ghost, Gladiator, Hawk, Hurricane, Spartan, Terrapin, Valkyrie | Apex |
| Day 8 / November 24 | Musashi Industrial and Starflight Concern, Mirai | Fury, Fury LX, Fury MX, Freelancer, Freelancer DUR, Freelancer MAX, Freelancer MIS, Hull A, Hull C, Prospector, Razor, Razor EX, Razor LX, Reliant Kore, Reliant Mako, Reliant Sen, Reliant Tana, Starfarer, Starfarer Gemini | Zenith |
| Day 9 / November 25 | Roberts Space Industries | Arrastra, Aurora CL, Aurora ES, Aurora LN, Aurora LX, Aurora MR, Constellation Andromeda, Constellation Aquila, Constellation Phoenix, Constellation Taurus, Lynx, Mantis, Scorpius, Scorpius Antares, Ursa Rover | Apex |
| Day 10 / November 26 | Best in Show, Weapons and Armor showcase | Corsair, Vulture, Redeemer, 600i Explorer | Zenith |
| November 27 - 30 | Finale | All ships that were previously available during the expo will be rentable via the rental kiosks. | Zenith |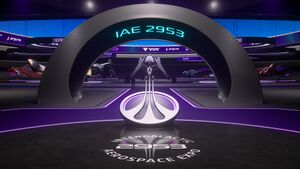 Stock limited ship sale
The event also features sales of stock limited ships on the Pledge Store. These ships are considered 'exclusive' and are therefore only sold in limited quantities over a small period of time. Each stock-limited ship is limited to 1 per account and will be available in several waves.
Click the individual time slots for a conversion to your own time zone.
Whitley's Guide
The events were usually covered by Jax McCleary with episodes of Whitley's Guide. However, this year an in-lore message appeared on twitter stating that Whitley's Guide is on hiatus for this year's IAE.[3]
As you know Whitley's Guide is on hiatus for this year's IAE, and our attempts to reach you have been unsuccessful. Despite the uncertainty regarding your location, issues with contracts, extradition, and other matters too sensitive to publicize, we hope you're staying safe, whatever 'activities' you might be engaged in.
The real reason behind this was later clarified by Tyler Witkin on reddit, who explained that it was scrapped because the entire cinematic group is focused on Squadron 42.[4]
Gallery
References