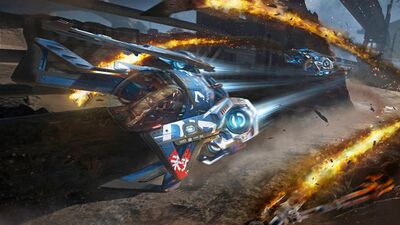 Cargo
0 SCU
0 KµSCU <br />0 µSCU <br />
Stowage
60 KµSCU
0.06 SCU <br />60,000 µSCU <br />
Standalone
$ 55.00
€ 55.55 <br />£ 46.75 <br />
Warbond
$ 50.00
€ 50.50 <br />£ 42.50 <br />
Availability
Time-limited sales
Persistent Universe data has moved
Length
7 m
0.007 km <br />700 cm <br />
(

6.13 m

0.00613 km <br />613 cm <br />

)
Width
5.4 m
0.0054 km <br />540 cm <br />
(

3.27 m

0.00327 km <br />327 cm <br />

)
Height
3 m
0.003 km <br />300 cm <br />
(

3.8 m

0.0038 km <br />380 cm <br />

)
Max speed
1,290 m/s
4,644 km/h <br />
Concept sale
19 September 2023
The Fury is a snub racer manufactured by Musashi Industrial and Starflight Concern's subsidiary, Mirai. It boasts exceptional maneuverability and incorporates advanced Xi'an technology, making it a next-generation racing ship. The Fury LX model, in particular, prioritizes maneuvering thrusters over offensive capabilities, allowing for optimal speed and agility during races. Its state-of-the-art design and engineering make it a top contender in the competitive racing industry.[1]
Features
Aerodynamic Design: The Fury LX exhibits superior performance in atmospheric races due to its aerodynamically optimized frame.[1]
Thrusters: The Fury spacecraft exhibits unparalleled maneuverability and reactive racing capabilities, owing to its fully gimballed four main thrusters and twelve maneuvering thrusters, all incorporating Xi'an technology.[1]
Shields: The Fury's compact size is enhanced by its complete shield coverage, a rarity for small spacecraft.[1]
Specifications
Computer
Radar
Scanner
Cooler
Life support
Power plant
Self destruct
Shield generator
Personal storage
Model
Ship profile
Series variants
| Image | Name | Description |
| --- | --- | --- |
| | Fury | With advanced Xi'an tech and class-leading agility, it's designed to dominate local space or airspace. |
| | Fury MX | A snub bomber variant which is ideal for swarm formation attacks. |
Paints
Universe availability
Gallery
Development
References