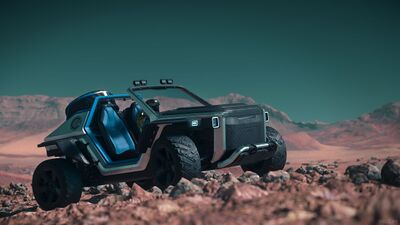 Cargo
0 SCU
0 KµSCU <br />0 µSCU <br />
Stowage
125 KµSCU
0.125 SCU <br />125,000 µSCU <br />
Standalone
$ 40.00
€ 40.40 <br />£ 34.00 <br />
Warbond
$ 35.00
€ 35.35 <br />£ 29.75 <br />
Avaliblity
Always available
Persistent Universe data has moved
Length
4.2 m
0.0042 km <br />420 cm <br />
Width
2.8 m
0.0028 km <br />280 cm <br />
Height
2 m
0.002 km <br />200 cm <br />
Mass
103,570 kg
103.57 t <br />
Concept sale
8 October 2022
The STV or Sport Terrain Vehicle is an open top personal transport vehicle manufactured by Greycat Industrial. It features built-in storage, has space for two people and is designed for speed.[1]
Features
Off-road: First and foremost, the STV is a sports vehicle designed to travel the toughest terrain. With either work or play in mind, its expertly tuned chassis can tackle varying terrain and conditions.
Racing: Thanks to its best-in-class top speed and acceleration, it is ideal for racers.
Cargo: At the rear of the vehicle is a compact storage compartment that can hold two handboxes[1] making it ideal for delivering and recovering items. The STV can also hold up to 125k µSCU of internal stowage.
Weapon storage: Conveniently placed right beside the driver and passengers seats are a pair of full size gun holders, making sure you're not left totally defenseless in the open wilds.[1]
Safety: Occupant experience is made safer thanks to the vehicle's roll cage and spare-tire mount.
Specifications
Computer
Scanner
Cooler
Power plant
No weaponry or utility items present.
Personal storage
Personal storage
125K µSCU
Model
Vehicle profile
| Isometric | Above | Left-side | Front | Rear | Below |
| --- | --- | --- | --- | --- | --- |
| | | | | | |
Paints
| Image | Paint Name | Description | Price (aUEC) | Price ($) |
| --- | --- | --- | --- | --- |
| | "Blue Steel" | Carbon fiber looking dark grey in colour with metallic silver and blue accents. Limited edition. Only available to Concierge during the concept sale. | [not available] | 3.00 |
| | "Cobalt Grey" | Dark grey in colour with light grey accents. | [not available] | 3.00 [2] |
| | "Electric Green" | Bright green and dark grey in colour. | [not available] | 3.00 [3] |
Universe availability
Gallery
Development
The vehicle was marked as "unannounced" on the Roadmap prior to October 2022. During CitizenCon 2022 the vehicle was revealed and mentioned to be available in the game straight away. Next to the STV, the UTV was also revealed, but was to be available at a later date.[4]
References