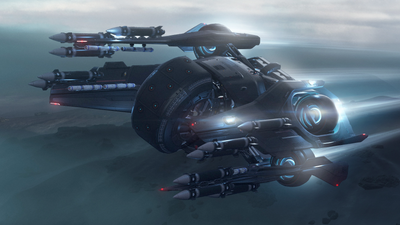 Cargo
0 SCU
0 KµSCU <br />0 µSCU <br />
Stowage
60 KµSCU
0.06 SCU <br />60,000 µSCU <br />
Standalone
$ 55.00
€ 55.55 <br />£ 46.75 <br />
Warbond
$ 50.00
€ 50.50 <br />£ 42.50 <br />
Avaliblity
Time-limited sales
Persistent Universe data has moved
Length
7 m
0.007 km <br />700 cm <br />
(

6.13 m

0.00613 km <br />613 cm <br />

)
Width
2.6 m
0.0026 km <br />260 cm <br />
(

3.27 m

0.00327 km <br />327 cm <br />

)
Height
5.4 m
0.0054 km <br />540 cm <br />
(

3.8 m

0.0038 km <br />380 cm <br />

)
Max speed
1,250 m/s
4,500 km/h <br />
The Fury MX is a snub bomber variant of the Mirai Fury from Musashi Industrial and Starflight Concern's Mirai division and is ideal for swarm formation attacks. It was revealed during Invictus Launch Week 2953.[1]
Features
Compact: The Fury MX was designed to deliver as much damage in the shortest amount of time possible. It's fast, maneuverable but lacks a quantum drive, it would be double the size if it did.[2]
Blast shield: The Fury MX variant comes with a deployable blast shield, it comes with multiple sensors and screens on the inside to make sure you can still see with it deployed, this comes at the cost of visibility.
Weapons:' The MX can hit hard thanks to its racks that can hold twelve 12 Size 2 and eight Size 1 missiles.
Specifications
Computer
Radar
Scanner
Cooler
Life support
Power plant
Self destruct
Shield generator
Fuel intake
Fuel tank
Main thruster
Main thruster (gimbal)
N/A
Maneuvering thruster
Maneuvering thruster (fixed)
N/A
Ordnance
Countermeasure
Countermeasure (noise)
N/A
Countermeasure (decoy)
N/A
Model
Ship profile
Series variants
| Image | Name | Description |
| --- | --- | --- |
| | Fury | With advanced Xi'an tech and class-leading agility, it's designed to dominate local space or airspace. |
Paints
Universe availability
Gallery
Trivia
Fury bears some resemblance to the TIE Interceptor in the Star Wars universe. TIE Interceptor has no hyperdrive while Fury has no quantum drive and jump drive.[2]
See also
References