Quick facts:
Cutlass Steel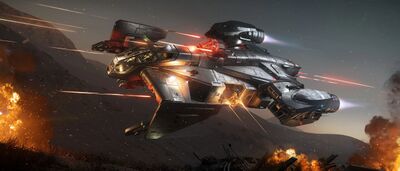 Cargo
0 SCU
0 KµSCU <br />0 µSCU <br />
Stowage
1,500 KµSCU
1.5 SCU <br />1,500,000 µSCU <br />
Standalone
$ 235.00
€ 237.35 <br />£ 199.75 <br />
Warbond
$ 210.00
€ 212.10 <br />£ 178.50 <br />
Availability
Time-limited sales
Persistent Universe data has moved
Length
37.5 m
0.0375 km <br />3,750 cm <br />
Width
26.5 m
0.0265 km <br />2,650 cm <br />
Height
11.5 m
0.0115 km <br />1,150 cm <br />
Mass
246,577 kg
246.577 t <br />
Announced
16 December 2021
Concept sale
22 December 2021
The Drake Cutlass Steel is a troop transport model in the Cutlass series with an additional remote turret, more missiles, and 5 door-mounted Gatling guns. With 18 jump seats for armed and armored passengers,[1] the Cutlass Steel is designed to rapidly insert troops into an area while providing fire support for them.
The basic specifications are identical to those of the Cutlass Black[2] but lacking any cargo space due to the installation of jump seats and additional turrets. Each jump seat is equipped with a single weapons rack for stowing FPS weapons. The rear turret is controlled by the co-pilot. The door-mounted gatling guns will be replaceable with other compatible mounted weaponry in the future, although this functionality is not yet implemented.[2]
Specifications
Personal storage
Weapon rack
Model
Ship profile
Series variants
| Image | Name | Description |
| --- | --- | --- |
| | Cutlass Black | A low-cost vehicle aimed at many different roles. It has a larger-than-average cargo hold which has the capability of carrying vehicles. |
| | Cutlass Blue | Police variant of the Cutlass series. It replaces most of the cargo space with prisoner pods. |
| | Cutlass Red | Search and rescue variant of the Cutlass series. It replaces most of the cargo space with dedicated medic beds. |
Paints
Universe availability
Gallery
References