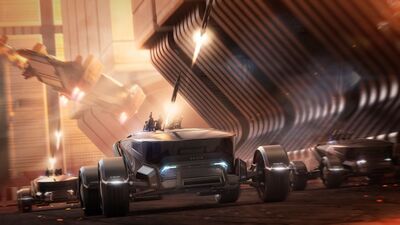 Long term production
Scheduled for 2024
Cargo
0 SCU
0 KµSCU <br />0 µSCU <br />
Standalone
$ 65.00
€ 65.65 <br />£ 55.25 <br />
Warbond
$ 60.00
€ 60.60 <br />£ 51.00 <br />
Availability
Time-limited sales
Length
7.25 m
0.00725 km <br />725 cm <br />
Width
5.8 m
0.0058 km <br />580 cm <br />
Height
2.75 m
0.00275 km <br />275 cm <br />
The Origin G12a combines military might with Origin's unique approach to high-end engineering. Designed for all offensive ground-based operations, it's the ideal partner for long-range perimeter patrols, intercepting assailants, and exploring dangerous new locales.[1][2][3]
Brochure description
The faded scars were each a memory of battles won and loves lost. The deep-set eyes reflected great storms rolling on the horizon across a darkened sea and spark of light. A faded jacket, worn but cared for. This was surely someone who could tell a thousand tales, but the low hum of the engine was all that broke the heavy silence.
Specifications
Radar
Computer
Power plant
Shield generator
Fuel tank
Ordnance
Utility items
Features
Heavy armor: The G12r's heavily fortified frame assures you stay protected when things get hairy, even in the most adverse conditions.
Missiles/Countermeasures: Control any battlefield with a comprehensive offensive/defensive package consisting of an eight-count missile rack and countermeasures.
Model
Series variants
| Image | Name | Description |
| --- | --- | --- |
| | G12 | Designed for luxury touring |
| | G12r | Designed for racing, this variant drops the armor & weapons for a EMP generator |
Gallery
Development
On May 26, 2023, G12 is announced to be scheduled for production in 2024.[4]
References