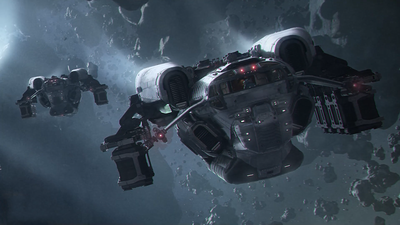 Cargo
64 SCU
6,400 KµSCU <br />64,000,000 µSCU <br />
Standalone
$ 150.00
€ 151.50 <br />£ 127.50 <br />
Warbond
$ 135.00
€ 136.35 <br />£ 114.75 <br />
Avaliblity
Time-limited sales
Length
35.5 m
0.0355 km <br />3,550 cm <br />
Width
21.1 m
0.0211 km <br />2,110 cm <br />
Height
10.75 m
0.0108 km <br />1,075 cm <br />
Concept sale
13 April 2022
The Expanse is a single-seat refinery ship manufactured by Musashi Industrial and Starflight Concern. It is designed to process front-line raw ore and then either transfer to a dedicated cargo ship or sell the refined ore itself. Ideal in combination with mining vehicles such as the Prospector and/or cargo ships like the Hull A, the Expanse shines as a critical part of an organized mining team.
Features
Reactors: The ship has 6 dedicated Reactors which can process different refining actions at the same time. These may be set to different refining processes and/or different materials.
Cargo pod mounts: Eight slots for expanded cargo pods (64 SCU) with another eight compressed above them. These allows the Expanse to pick up dropped ore pods from other mining ships and refine them immediately.[1]
Integrated tractor beams: These ensure that receiving raw materials and distributing processed ore are entirely hands-off procedures.
Weapons: Two Size 1 pilot controlled weapons offer protection when refining in the field.
Specifications
Radar
Computer
Power plant
Cooler
Shield generator
Quantum drive
Jump drive
Fuel intake
Fuel tank
Quantum fuel tank
Pilot weapon
Model
Ship profile
Paints
| Image | Paint Name | Description | Price (aUEC) | Price ($) |
| --- | --- | --- | --- | --- |
| | "Stardust" | Blue and dark grey colour with orange and grey accents and Microtech logo decals. | [not available] | 9.00 [2] |
Gallery
Development
The Expanse was originally teased in CitizenCon 2951 as a potential option for explorer ship concept.[3]
References