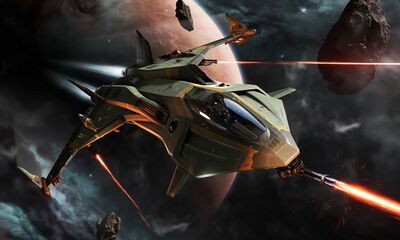 Cargo
0 SCU
0 KµSCU <br />0 µSCU <br />
Stowage
250 KµSCU
0.25 SCU <br />250,000 µSCU <br />
Standalone
$ 90.00
€ 90.90 <br />£ 76.50 <br />
(

$ 80.00

€ 80.80 <br />£ 68.00 <br />

)
Availability
Always available
Persistent Universe data has moved
Length
21 m
0.021 km <br />2,100 cm <br />
Width
17.5 m
0.0175 km <br />1,750 cm <br />
Height
5.5 m
0.0055 km <br />550 cm <br />
Max speed
1,236 m/s
4,449.6 km/h <br />
The P5G Gladius is a light fighter produced by Aegis. Its first design was introduced in 2579 as a replacement for the Stiletto and has been updated over the years to keep up with modern technology.[1] In military circles, the Gladius is beloved for its performance and its simplicity. A fast, light fighter with a laser-focus on dogfighting, the Gladius is an ideal interceptor or escort ship.[2]
Features
Pedigree: The Gladius has a reliable design that spans centuries, beloved particularly for its performance and its simplicity.
Weapons: For a light fighter, it has an impressive set of three Size 3 guns and missile racks under the wings that can hold a pair of Size 3 and four size 2 missiles.
Avoidance: The Gladius' chief weapons are its speed, maneuverability and its countermeasure deployment system.
Stowage: Even though the Gladius is a light fighter, it has the capability to stow up to 250K μSCU of items via an external storage unit as well as having dedicated gun racks.
Specifications
Ordnance
Weapons
Personal storage
Weapon rack
Model
Ship profile
Special edition
Gladius "Valiant"
Gladius "Pirate"
| | |
| --- | --- |
| | With a red and black pirate livery, it's only available when defeating "Pirate Swarm" in Arena Commander.[4] |
Paints
The following paints (skins) can be used on all Gladius variants.
| Image | Paint Name | Description | Price (aUEC) | Price ($) |
| --- | --- | --- | --- | --- |
| | "Foundation Festival" | Metallic silver in colour with teal & white accents and a Foundation Festival logo. Limited edition. Only available as a reward to backers who took part in the annual Foundation Festival event. [5] | [not available] | (Reward) |
| | "Frostbite" | Blueish white colour with grey/black camo pattern and dark grey accents. | [not available] | 7.00 [6] |
| | "Invictus Blue & Gold" | Blue colour with dark grey & gold accents and a Invictus logo. Limited sale. Only available during the annual Invictus event. [7] | [not available] | 7.00 |
| | "Solar Winds" | Metallic silver in colour with dark red accents and red tinted canopy. Limited sale. Only available during the annual Pirate Week event. [8] | [not available] | 7.00 |
| | "Timberline" | Olive green colour with orange and dark olive green accents. | [not available] | 4.50 [9] |
Universe availability
Pledge price history
| Date | Pledge cost (USD) | Insurance | Availability | Sale |
| --- | --- | --- | --- | --- |
| 2020-05-26 | 90 | 120 months | Time-limited | Invictus 2950 [10] |
Lore
The Gladius was developed in the 26th century by Aegis Dynamics to replace the Stiletto interceptors. It was first deployed in the First Tevarin War.[11][12]
In 2944, with some Gladius squadrons converting to the wider deployment of the F7A Hornet and the introduction of the F8 Lightning to elite units, the Navy has begun to auction older Gladius to planetary governments and qualified mercenaries. The spacecraft available to civilians are retired military models, with the same specifications and upgrade potential. Classified weapons technologies have been removed from the spaceframes, but they can be outfitted with a variety of civilian-grade weapons. The decommissioning process has also made room for civilian standard upgrades such as jump drives.[13]
Gallery
Development
The Gladius was designed by Gavin Rothery (Freelance Conceptist)[14] and directed by Paul Jones. Other contributors include Foundry 42's Bjorn Seinstra (Lead Vehicle Artist), Phill Meller (Lead Designer), Neil McKnight (Senior 3D Artist), along with Chris Roberts.[15]
In July 2017, the Gladius received a cockpit rework to accompany the new item 2.0 system. The center monitor is removed to provide better visibility for the front turret. The side monitors are enlarged to show additional information. The cockpit reworked is deployed in Star Citizen Alpha 3.0.0.[16]
In April 2021, the gold standard Gladius is released to the Persistent Universe in Alpha 3.13. That includes many level of detail, decal, geometry, material, and paint changes inside the cockpit and on the exterior of the ship. Noticeably, the update implements the exterior access points to the physicalized components, as well as personal locker, fuel port access, and numerous maintenance panels.[17][18]
See also
References