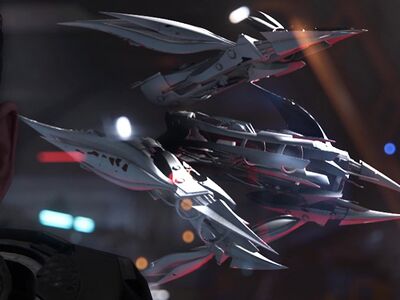 Availability
Not available for sale
The Vanduul Cleaver is a boarding ship.
Specifications
Radar
Power plant
S Power Plant
Vanduul Clans
Cooler
Fuel tank
S Fuel Tank
Vanduul Clans
Thrusters
Main Thruster
Vanduul Clans
Retro Thruster
Vanduul Clans
Fixed Maneuvering Thruster
Vanduul Clans
Development
The Cleaver is first teased in the 2015 E3 PC Gaming Show video.[1] The Cleaver now appears on the Squadron 42 Roadmap.[2] The Cleaver along with the rest of the Vanduul fleet are redesigned in 2019 using the design styles of the updated Kingship interior.[3]
Trivia
See also
Gallery
References