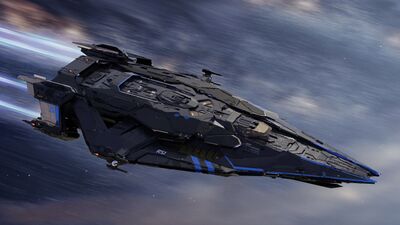 Cargo
64 SCU
6,400 KµSCU <br />64,000,000 µSCU <br />
Standalone
$ 380.00
€ 383.80 <br />£ 323.00 <br />
Warbond
$ 350.00
€ 353.50 <br />£ 297.50 <br />
Availability
Time-limited sales
Length
110 m
0.11 km <br />11,000 cm <br />
Width
60 m
0.06 km <br />6,000 cm <br />
Height
22 m
0.022 km <br />2,200 cm <br />
Announced
24 November 2022
Concept sale
26 November 2022
The Galaxy is a modular multirole ship manufactured by Roberts Space Industries.[1] Focusing on versatility, the Galaxy is capable of equipping its crew to handle any task in the 'Verse.
Features
Modularity: The Galaxy's chassis is built around a configurable mid-ship space that supports interchangeable modules, empowering you and your crew to take on a wide variety of professional roles.
Hangar: One of the key features of the Galaxy is its rear hangar which has an 'XX-Small' landing pad. The hangar has a connecting doorway to the modular space. The hangar also provides space for 64 SCU of cargo. The 64 SCU cargo grids are 2x32 grids spaced at the edge of the hangar and do not interfere with the hangar metrics, allowing both an XXS ship and 64 SCU to be stored simultaneously.[2]
Crew accommodations: The vehicle is designed to run with a crew of six, each with their own room, with the Captain having their own ready-room. There is a mess-hall and a recreation room with a pool table for relaxation.
Weapons: With three remote turrets (each equipped with two Size 5 guns) as well as two Size 4 missile hard-points (each carrying four Size 2 Missiles), the Galaxy can hit back hard when needed.
Specifications
Radar
Computer
Power plant
L Power Plant
No name found for Unknown.
Battery
L Battery
No name found for Unknown.
Cooler
L Cooler
No name found for Unknown.
Shield generator
L Shield Generator
No name found for Unknown.
Life support
L Life Support
No name found for Unknown.
Gravity generator
L Gravity Generator
No name found for Unknown.
Quantum drive
L Quantum Drive
No name found for Unknown.
Jump drive
L Jump Drive
No name found for Unknown.
Fuel intake
Fuel tank
Quantum fuel tank
Thrusters
Turret
Weapon
No name found for Unknown.
Ordnance
Model
Ship profile
Exterior
Interior
| Lower Deck | Upper Deck |
| --- | --- |
| | |
Modules
The Galaxy may be equipped with one of three distinct modules. Players may choose from a cargo, med-bay, or refinery module.
| Module images | | Name | Description | Price ($USD) |
| --- | --- | --- | --- | --- |
| | | Cargo | Module for vastly increasing the Galaxy's cargo capacity by adding 512 SCU of cargo.[3] It also includes a cargo lift able to hold two 32-SCU containers or a vehicle up to and including the RSI Ursa in size.[2] | 70.00 |
| | | Med Bay | Proper medical facility with dedicated beds and easy access through a lift or the rear hangar. In three separated rooms, it has one Tier 1 bed for major injuries, two Tier 2 beds for moderate injuries and three Tier 3 beds for minor injuries. It is important to note that the Galaxy does not have a medical room of its own and, if installed, this would be the only medical installation onboard.[2] | 90.00 |
| | | Refinery | Refinery system to load and unload from Prospectors and other mining ships. This module adds 2 refinery reactors. The Galaxy refinery module has both storage for raw and refined materials (outside of just saddlebag storage like the Expanse) as well as two reactors that are much larger than the Expanse's. So, while it can run fewer simultaneous jobs, it can process much larger quantities per job and store them after.[2] | 80.00 |
Future Modules
CIG have stated that they hope to add more modules types in the future including one dedicated to manufacturing items.
Paints
| Image | Paint Name | Description | Price (aUEC) | Price ($) |
| --- | --- | --- | --- | --- |
| | "Protector" | Greyish blue in colour with white and grey accents. Limited edition. Only available to Concierge during the concept sale. [4] | [not available] | 13.00 |
Gallery
Development
References