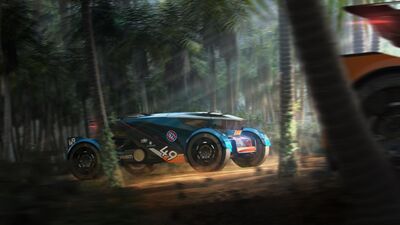 Cargo
0 SCU
0 KµSCU <br />0 µSCU <br />
Standalone
$ 60.00
€ 60.60 <br />£ 51.00 <br />
Warbond
$ 55.00
€ 55.55 <br />£ 46.75 <br />
Avaliblity
Time-limited sales
Length
7.25 m
0.00725 km <br />725 cm <br />
Width
5.8 m
0.0058 km <br />580 cm <br />
Height
2.75 m
0.00275 km <br />275 cm <br />
The G12r is the racing variant of the upcoming G12 rover manufactured by Origin. It is equipped with an EMP system but possess no armor.[1][2][3]
Description
Stripped back and meticulously engineering for performance, Origin has taken everything learned from preparing the 350r and M50 ships for competition and added it to the ubiquitous ground racer. Lighter, faster, and with a built-in EMP for protection, it's ready for anything the outlands can throw at it.
Specifications
Radar
Computer
Power plant
Shield generator
Fuel tank
Features
EMP: Shut down the competition and avoid risky conditions, courtesy of a fully-integrated onboard EMP unit.
Design: Legendary sport-inspired design, featherweight frame and minimal armor minimize friction and maximize intensity.
Model
Series variants
| Image | Name | Description |
| --- | --- | --- |
| | G12 | Designed for luxury touring |
| | G12a | Focused on combat, this variant come with medium armor and missiles |
Gallery
References