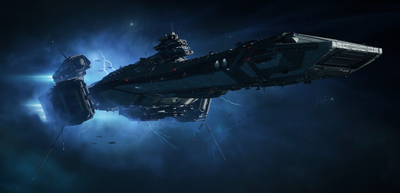 Avaliblity
Not available for sale
Length
990 m
0.99 km <br />99,000 cm <br />
The Bengal is a fleet carrier spacecraft manufactured by Roberts Space Industries (RSI) for the United Empire of Earth Navy (UEEN). Bengal-class carriers carry multiple squadrons of fighters, bombers and support craft, and typically form the nucleus of a UEEN battle fleet or task force group.[1] Their massive armaments and extremely heavy shielding make it nearly impossible for any individual craft to threaten them.[2] It is 990 meters in length.[3]
Features
Carrier: This naval supercarrier transports and maintains an entire fleet of battle-ready fighters, including squadrons of Anvil F7A Hornets, F8A Lightnings, and Gladiators. Alongside the fighters are dedicated divisions of bombers, dropships, and utility craft for specialist missions and support.
Flying Fortress: Onboard, the Bengal supports a maximum crew of 476, with habitation for all. The crew is protected by a wealth of ballistic, laser, and missile turrets, including a main turret with a Behring 'Ship Buster' railgun for engaging enemy carriers and king ships.
Specifications
Power plant
Cooler
Shield generator
C Shield Generator
Gorgon Defender Industries
Quantum drive
Jump drive
Fuel intake
Fuel tank
Quantum fuel tank
Thrusters
Joint Maneuvering Thruster
N/A
Joint Maneuvering Thruster
N/A
Turret
Behring Applied Technology
Remote Missile Turret
N/A
Beehive Missile Launcher
Behring Applied Technology
Remote Phalanx Turret
N/A
Ballistic Gatling
Behring Applied Technology
Ballistic Cannon
Behring Applied Technology
Model
Gallery
Development
The initial concept of Bengal is designed by Ryan Church (Freelance Conceptist) in 2013, and then handed off to a crew of artists (including Sergio Rosas) at CGBot.[4] Throughout the coming years, it was only ever displayed in certain promotion videos or development updates. In one particular case, an episode of Around The Verse was used to display development progress on the ship, showing several interior shots such as ship hangars and flight decks.[5] Throughout time, it has been worked on mostly behind the scenes. The ship was featured in several Squadron 42 teasers or trailers, confirming that it would need to be developed for an appearance in that game.
Design brief
| | |
| --- | --- |
| Builder | Roberts Space Industries |
| Length | 1,000 meters |
| Crew (max) | 755 |
| Mass (empty) | 113,000 tonnes |
| Focus | Battlegroup fighter and bomber support platform |
| Range | Unlimited 20+ years |
| Description | The Bengal-class is the UEE's "tip of the sword." The iconic Bengal is the most powerful warship available to the UEE Navy and its imposing presence has held off raiders and the Vanduul throughout the outer colonies, allowing humanity to spread unchallenged. Bengals carry multiple squadrons of fighters, bombers and support craft. Their massive armaments and extremely heavy shielding make it nearly impossible for any individual craft to threaten them. Only a combined effort could ever hope to destroy or capture one. |
| | |
| --- | --- |
| Cargo Capacity | 15000 tonnes |
| Engines | Classified |
| Modifiers | 10 |
| Max. Class | Antimatter |
| Main Thrusters | 6 x TR10, 4 x TR8, 4 x TR7 |
| Maneuvering Thrusters | 16 x TR6 |
1 x Behring Turret with 4 x 130m "Ship Buster" Railguns
18 x ASD Ship to Ship Turrets with dual Ion cannons
40 x MaxOx AA Turrets with dual Heavy Duty Laser Cannons
16 x K&W Rolling Space Frame (with 21 missiles each)
4 x Talon 'Sweeper' Mine Dispensers (aft) (Ammunition Types: HE, EMP, Web, Nuclear, Anti-Matter)
14 x Phalanx point defense Laser Gatling
36.4" Icarus Armor Plating
14 x Phoenix-class Shield Generators
6 x HT-2000 Burst Shield Generators (back-up non-sustainable shields) (2 fore, 2 mid, 2 aft)
Trivia
Traditionally, Bengal-class carriers are named after big cats.[6]
Bengal is the first capital ship shown in Star Citizen back in the original Kickstarter campaign.[7]
Seven artists are on board for its construction and development since the time of R&D.[5]
The main turret of the Bengal is slightly smaller than the Idris.[5]
The interior is around three or four times the size of a Battlefield 4 map.[5]
The Bengal was teased on May 1, 2021 on the Star Citizen Twitter with an image of a Bengal cat inside a backpack carrier.[8] The ship then appeared during the 2951 Invictus Launch Week as part of the UEE navy fleet flying around the Stanton system.
In internal playtesting, players got frustrated traversing the ship. Elevators and a subdeck monorail were added as a solution. It runs from one side of the flight deck to the other. It can be used to transport cargo and personnel.[9]
The Bengal carrier is sometimes nicknamed as the Bagel carrier by the community.
See also
References