Quick facts:
F7A Hornet (Mk II)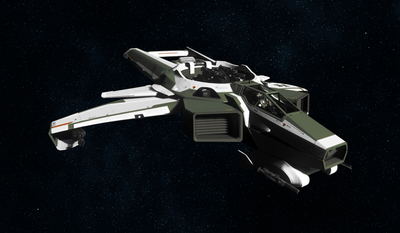 Cargo
0 SCU
0 KµSCU <br />0 µSCU <br />
Stowage
250 KµSCU
0.25 SCU <br />250,000 µSCU <br />
Availability
Not available for sale
Persistent Universe data has moved
Length
22.5 m
0.0225 km <br />2,250 cm <br />
Width
21.75 m
0.0218 km <br />2,175 cm <br />
Height
6 m
0.006 km <br />600 cm <br />
Max speed
1,229 m/s
4,424.4 km/h <br />
The F7A Hornet is the UEE Navy's premier carrier-based fighter craft, it is the front-line attack ship for military combat missions. While not outfitted for long range runs, the Hornet can take her share of hits and dish out a consistent, powerful response.[1]
Specifications
Radar
Computer
Power plant
Cooler
Shield generator
Quantum drive
Jump drive
Fuel intake
Fuel tank
Quantum fuel tank
Thrusters
Joint Maneuvering Thruster
N/A
Joint Maneuvering Thruster
N/A
Pilot weapon
Gallenson Tactical Systems
Turret
Ordnance
Behring Applied Technology
Behring Applied Technology
Utility items
Model
Ship profile
Series military variants
Series civilian variants
| Image | Name | Description |
| --- | --- | --- |
| | F7C Hornet | The civilian variant of the classic F7A Hornet. Also has a small cargo hold. |
| | F7C-M Super Hornet | This variant is the closest to the F7A Hornet military load-out that is legally possible for a civilian model. |
| | F7C-R Hornet Tracker | The F7C-R is variant that is designed for scouting, but can also be use for command and control. |
| | F7C-S Hornet Ghost | The stealth variant designed to have a low profile. |
Lore
The first F7A Hornet came out in 2806 and replaced the Aegis Avenger as the standard medium fighter for the UEE.
Trivia
Despite popular belief that the F7A Hornet Mk II has replaced the Mk I in game, Mk I ships have been in game in multiple occasions.[4][5]
The F7A Hornet was originally featured in the Star Citizen Kickstarter trailer.[6]
At first the Hornet was to be a light fighter, but then after designs came back with it being heavily armed and beefy.[7]
The original F7A Hornet paid homage to the Hornet from  Wing Commander which was a light fighter the player started out in.[7]
Gallery
References