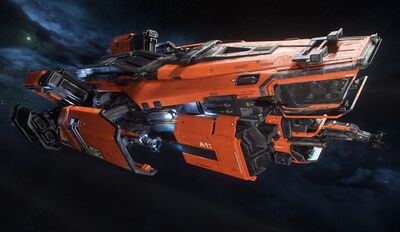 Role
Prospecting and Mining
Cargo
96 SCU
9,600 KµSCU <br />96,000,000 µSCU <br />
Stowage
96,000 KµSCU
96 SCU <br />96,000,000 µSCU <br />
Standalone
$ 315.00
€ 318.15 <br />£ 267.75 <br />
Warbond
$ 275.00
€ 277.75 <br />£ 233.75 <br />
Availability
Always available
Persistent Universe data has moved
Length
45 m
0.045 km <br />4,500 cm <br />
Width
26 m
0.026 km <br />2,600 cm <br />
Height
15 m
0.015 km <br />1,500 cm <br />
Mass
1,169,686 kg
1,169.686 t <br />
Max speed
1,090 m/s
3,924 km/h <br />
Quantum capacity
2,758.5 L
2.759 SCU <br />
The Argo MOLE (Multi Operator Laser Extractor) is a medium-sized multi-crew mining ship. With three independent mining turrets and comprehensive crew facilities, it is a ship perfect for efficient multi-crew mining. In addition, a large array of 24 mineral pods ensures that nothing valuable will ever be left behind. The MOLE lives by the adage "many hands make for light work" [1]
Features
Trilateral Mining: Three separate, controllable mining heads allow for individual operators to extract resources from separate nodes and asteroids, or to focus their efforts on one single large deposit that needs some extra power to crack.
Mineral Pods: The Mole carries 24 collapsed mineral pods (12 SCU each) that can be dropped when full to be picked up by cargo haulers. At one time, The Mole can carry eight of these pods while they are full.
Crew Quarters: A utilitarian but comfortable set of crew quarters provides the necessities for the pilot and three mining operators on long and short mining trips.
Upgraded Mining Hardware: The Size 2 laser heads on the Mole's mining arms are capable of larger targets and safer mining, supported by an outsized power plant and ARGO's most intuitive control interface.[1]
Specifications
Weapons
Model
Ship profile
Exterior
Interior
| Sub Deck | Technical deck | Habitation deck |
| --- | --- | --- |
| | | |
Special editions
| Image | Name | Description |
| --- | --- | --- |
| | "Carbon" | Limited dark grey livery[2] |
| | "Talus" | Limited light grey livery[3] |
Paints
| Image | Paint Name | Description | Price (aUEC) | Price ($) |
| --- | --- | --- | --- | --- |
| | "Aphorite" | Medium dark blue-magenta colouring with dark cyan-blue accents. Available only in the Subscribers store. | [not available] | 11.00 [4] |
| | "Dolivine" | Medium light gray colouring with medium dark shade of green accents. Available only in the Subscribers store. | [not available] | 11.00 [5] |
| | "Hadanite" | Pale shade of red colouring with dark gray accents. Available only in the Subscribers store. | [not available] | 11.00 [6] |
Universe availability
Gallery
Development
The ship was first revealed to CitizenCon 2019 attendees during the "Ship Talk" panel in the Croshaw Auditorium. This panel wasn't streamed live but made available to everyone later on YouTube. At this stage, the Mole was already fairly far into production state, because Cloud Imperium announced that it would be made available for Alpha 3.8, due later that year.
During the Intergalactic Aerospace Expo a few days after CitizenCon 2019, the Mole was also featured in a Whitley's Guide episode. Here, presenter Jax McCleary gained exclusive access to the Mole.[7]
The ship was made playable for Star Citizen Alpha 3.8.0.[8]
See also
References