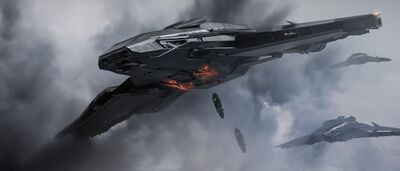 Cargo
0 SCU
0 KµSCU <br />0 µSCU <br />
Standalone
$ 175.00
€ 176.75 <br />£ 148.75 <br />
Warbond
$ 155.00
€ 156.55 <br />£ 131.75 <br />
Availability
Time-limited sales
Length
46.5 m
0.0465 km <br />4,650 cm <br />
Width
43.5 m
0.0435 km <br />4,350 cm <br />
Height
10 m
0.01 km <br />1,000 cm <br />
Crusader Industries brings its usual commitment to excellence directly to the civilian market with the A1 Spirit, a mid-size multi-purpose starship equipped as a light bomber but packing enough versatility to tackle multiple roles and unpredictable jobs.[1]
Equipped with a payload of ten rapidly-deploying bombs and a strong set of weapons, the Spirit is capable of a wide variety of combat tasks.[2] The ship is currently in production.[3][4]
Features
Bomb Racks: The compact Chaplet rig utilizes twin racks with five Size 5 bomb payloads each for rapid deployments.
Weapons: As well as the bomb racks, the ship also has four Size 3 gun hard-points on the ships wings and nose, a rear remote turret which can hold two Size 2 guns as well as racks that can hold four Size 3 missiles.
Cargo: With an access ramp and small bay, the ship can accommodate a small vehicle to assist with ground operations. It also has an internal storage space for the crew.
Crew accommodation: Conveniently placed right behind the cockpit, the A1 has two beds to help with those longer flights.
Specifications
Radar
Computer
Power plant
Cooler
Shield generator
Quantum drive
Jump drive
Fuel intake
Fuel tank
Quantum fuel tank
Thrusters
Gimbal Maneuvering Thruster
N/A
Pilot weapon
Wings Weapons S3 Fixed
To be determined
Nose Weapons S2 Gimbal
To be determined
Turret
Rear Remote Turret
To be determined
Ordnance
Missle Rack S4
To be determined
S3 Missles
To be determined
Chaplet Bomb rack
To be determined
S5 Bombs
To be determined
Model
Ship profile
Series variants
| Image | Name | Description |
| --- | --- | --- |
| | C1 Spirit | A Medium-sized hauler with a focus on versatility & a flexible design. |
| | E1 Spirit | With a focus on executive transportation, this medium-sized ship is designed to hold up 6 VIP's in comfort. |
Paints
In-game availability & pricing
Buying
Renting
Unavailable
Gallery
References