Quick facts:
F7A Hornet (Mk II)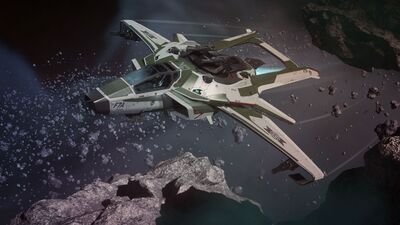 Cargo
0 SCU
0 KµSCU <br />0 µSCU <br />
Stowage
250 KµSCU
0.25 SCU <br />250,000 µSCU <br />
Availability
Not available for sale
Persistent Universe data has moved
Length
22.5 m
0.0225 km <br />2,250 cm <br />
Width
21.75 m
0.0218 km <br />2,175 cm <br />
Height
6 m
0.006 km <br />600 cm <br />
Max speed
1,229 m/s
4,424.4 km/h <br />
The Anvil F7A Hornet Mk II is the cutting-edge carrier-based fighter revamped from the older F7A Hornet model, the UEE military version of the Hornet.[1] It is only available to the military and currently used by United Empire of Earth Navy special forces and elite squadrons.[2]
Specifications
Ordnance
Weapons
Personal storage
Model
Series variants
| Image | Name | Description |
| --- | --- | --- |
| | F7A Hornet (Mk I) | The original Hornet that all other variants are based off. It has been the primary military fighter of the UEE Navy for hundreds of years. It's not available to the general public for purchase.[3] |
| | F7C Hornet | The civilian variant of the classic F7A Hornet. Also has a small cargo hold. |
| | F7C-M Super Hornet | The closest to the F7A Hornet military load-out as is legally possible for a civilian model. |
| | F7C-R Hornet Tracker | A scouting variant that can also be use for command and control. |
| | F7C-S Hornet Ghost | The stealth variant designed to have a low profile. |
Gallery
Development
The original F7A Hornet was created by CGBot and it was used in the first pitch video of Star Citizen in the Kickstarter campaign in 2012. Because F7A will be featured in Squadron 42 as a hero ship, in 2016, CIG decided to update the F7A Hornet to current standard since its mesh is still the old CGBot model.
The F7A Hornet Mk II is designed by Chris Smith (Lead Vehicle Artist) in CIG Austin. The idea was to keep the original Hornet F7 MK1 series in the game and then add the F7A MK2 model, modelled completely new from the ground up with the latest techniques and pipeline procedures in 2016, as Chris Roberts thought it would be cool to have the classic Hornet and the new version run side by side, and players would have the opportunity to keep the old MK1 as a classic collectors item.[4]
Invictus Launch Week
Trivia
See also
References